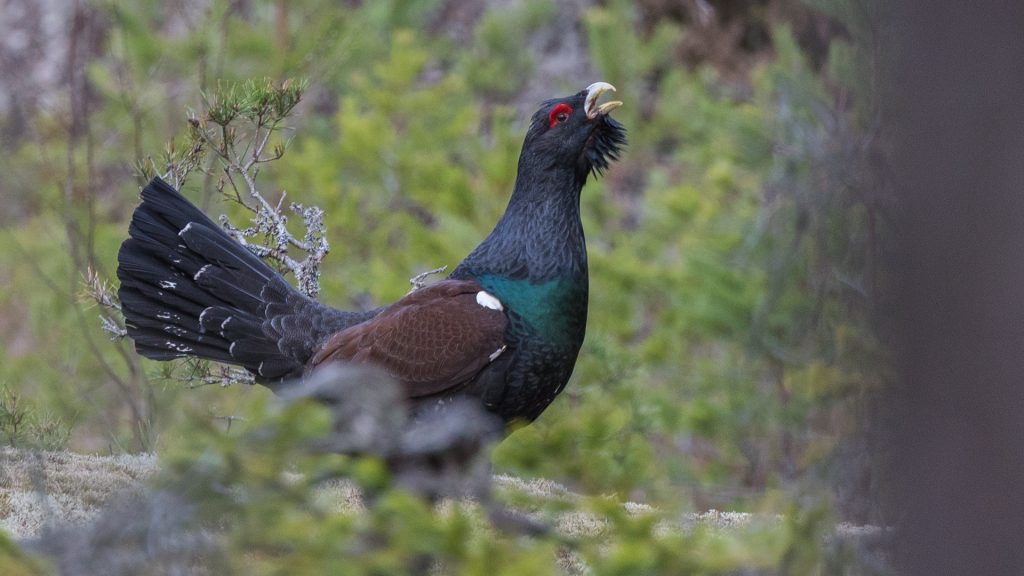 Hi, thank you for your interest in Amazing Nature Scandinavia! Below you can find a special itinerary for a self-drive 6-day bird & bear photography tour through Central Sweden. If you want more information or if you have any questions, don't hesitate to send me an e-mail sylvia@amazingscandinavia.com.
Holiday highlights!
Observe ospreys from a boat
Admire the courtship (lek) of black grouse and capercaillies from up close
Spend a night in a bear observation hide
Stay in a cozy B&B on an organic farm
Enjoy tasty meals prepared with local ingredients
Route 6-day bird & bear photography tour Central Sweden:
Day 1 to 5: Krylbo
Day 5 to 6: Järbo
TRAVEL ITINERARY
DAY 1 – MONDAY 24 APRIL 2023
After pick-up of your rental car at the airport of Stockholm, you will drive to a homely B&B situated in Krylbo where you can check in from 3 pm. From the airport it is a 1 hour 45 minute drive to your accommodation in which you will spend several days on a full board basis.
In the evening a 2-course dinner will be served.
This B&B is family-owned and situated on an organic farm. Here you can really experience what it is like to live on the Swedish countryside.
The B&B is surrounded by forest and meadows as well as the numerous animals that live on the farm. You can use shared cozy living areas, a well-equipped kitchen and various shared bathrooms.
On site you can walk freely in the woods or fields. The farm is the starting point for an 18.4 km long loop walk and is located in the picturesque Svartådalen, the Black River valley. It is possible to hike a shorter loop of about 8 km with the starting and end point at the farm.
There is a small farm shop on site where you can buy meat, vegetables and other dairy products.
During your free time at Krylbo, you can visit the more than 500-year-old silver mine of Sala, the medieval city of Arboga, the cider and apple juice tasting in Köping, a traditional pastry shop in Norberg or one of the many other places of interest or nature reserves the region has to offer.
Silver mine Sala: https://www.salasilvermine.com/
Cider and apple juice tasting in Köping: https://kopingsmusteri.se/en/
Traditional pastry shop in Norberg: http://www.elsaandersonskonditori.se/
DAY 2 – TUESDAY 25 APRIL 2023
Today you will have to get up early for a 1 hour 30 minute drive to Torshälla. There is almost no traffic in Central Sweden let alone traffic lights ;-). Upon arrival at 5.30 am you will join an osprey safari for several hours.
You'll take passage on a small boat which will sail over Lake Mälaren, the 3rd largest lake in Sweden. Soon you will be joined by large groups of cheeky gulls, which are very nice photo subjects and a good way to practice on photographing birds in flight!
However, these gulls mainly serve as a lure for the ospreys. You are given the chance to take unique shots of ospreys as they descend towards the water surface to catch the fish that are being tossed towards them from the boat. The ospreys might catch fish within 15 meters from the boat, therefore a zoom lens is recommended.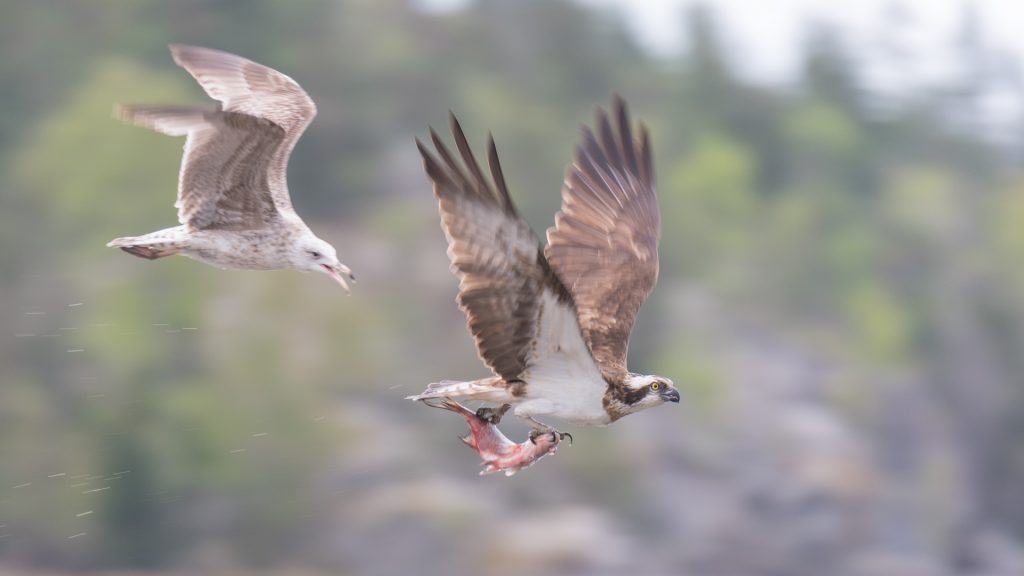 Several ospreys usually come close to the boat, eagerly welcoming the easy meals that are in store for them.
Once you are satisfied with what you've seen and the captain is out of fish, it is time to return to the harbor. From there you return to Krylbo for some well-deserved day rest and a nice lunch.
Around 6 pm you will meet another guide in Fläckebo, which is situated at a half hour drive from the B&B.
You will spend the night in a very comfortable photography hide suited for 4 persons from where you can experience the black grouse courtship from up close the next morning. The guide will accompany you across the bog to the hide, the walking distance is about 400 meters. Waterproof boots are a must!
The well-insulated photography hide is 6 x 3 meter and equipped with 2 bunk beds, a dry toilet and heating. Four lens openings are placed beneath the front windows. While seated in seats, covered with comfortable sheepskin, in the cozy warmth, an average of 30 male black grouse steal the show, usually no further than 20 to 30 meters from the hide. Ambitious photographers can settle themselves in camouflaged tents, placed on wooden platforms, to get closer to the birds in the morning.
The hide stands on a piece of bog in the nature area of Svartådalen (Black River Valley) in the province of Västmanland. The forest surrounding the bog is part of an area of 750 km² that is only crossed with gravel roads and dirt tracks and very few human settlements. The risk of human disturbance is therefore small and the abundance of wild animals large.
The following is included in the activity: transport to the hide, briefing in English, bed linen, packed dinner, breakfast package and the use of slippers, comfortable chairs covered with sheepskin, blankets, candles, matches and a flashlight.
You should bring: warm clothing (dress in layers), suitable warm and waterproof boots, camera with charged battery, tripod with ball head, binoculars, head lamp, bottle of water and a towel.
This activity suits anyone who is a nature lover and/or a birder. Ambitious photographers and filmmakers also get their money's worth.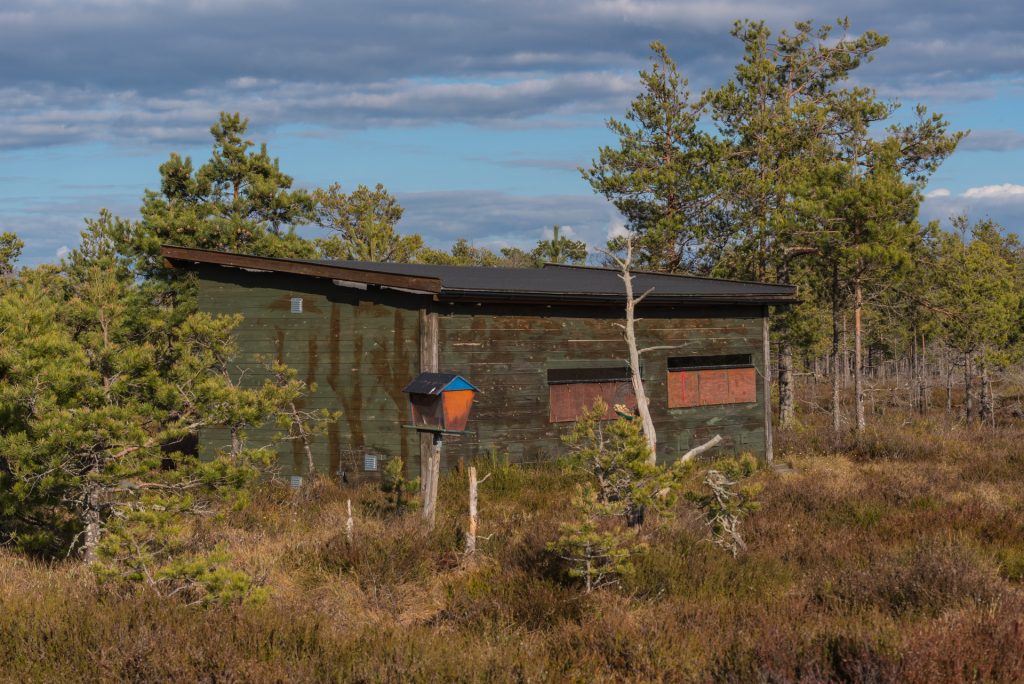 After you have installed yourself in the photography hide (together with other wildlife photographers), the spring chorus of thrushes and robins provides an atmospheric, peaceful evening. In the distance you can already hear the cackling of the grouse that perform a soft evening show. You fall asleep with the sounds of nature, perhaps even with the call of the Boreal owl.
DAY 3 – WEDNESDAY 26 APRIL 2023
You will be awakened by trumpeting cranes or whooper swans. Even before dawn you can only hear the call of the grouse getting stronger, then it's time to take action and observe this unique spectacle from close by.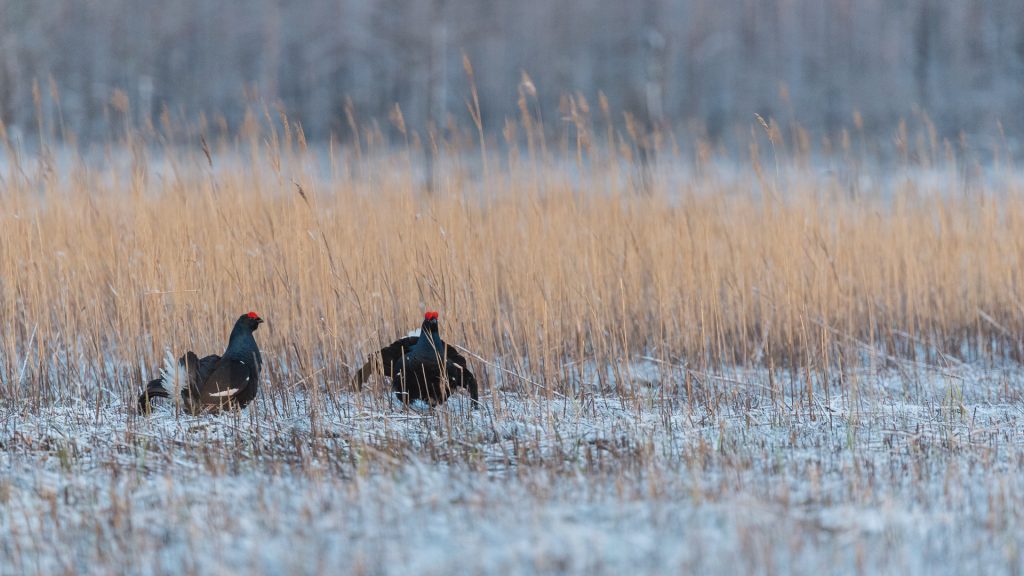 You will only leave the photography hide once the courtship has finished, so as not to disturb the birds.
Once the black grouse courtship has come to an end during late morning (usually around 10 am), you can drive back to the B&B where you will have some time to relax before another exciting activity starts in the evening. At noon lunch will be served.
Around 5 pm your guide will meet you at a lake in Skultuna, about a half hour drive from Krylbo. He will guide you to the leking area where male capercaillies court each year. Admiring the courtship of capercaillies is magical and has been my most amazing experience with wildlife so far!
This activity includes: guidance to your tent, a simple evening meal including hot drinks, snacks and breakfast. In the tent you have an inflatable mat and a warm sleeping bag with cotton liners at your disposal.
To bring along: warm clothing (dress in layers), suitable warm and waterproof boots, camera on tripod, binoculars, headlamp, bottle of water and something to read or keep yourself occupied during the evening.
BE AWARE! Photographing the capercaillie lek is one of the most difficult challenges for a wildlife photographer. These birds are far more scared than black grouse and also less predictable when it comes to the choice of their leking site. Their behavior is also highly dependent on their hypersensitivity to wind and disturbance, so we ask you to have realistic expectations. The first attempt of photographing the capercaillie lek is not always successful. However, the guides work hard to increase your chances of success. The more sessions you book, the higher your success rate will be. You could replace the black grouse courtship with a 2nd session of the capercaillie lek.
And don't forget: your own behavior is crucial for a successful session!
So this activity is only suited for the very patient and dedicated photographer or bird watcher. It is a real challenge but also a magical experience to admire the courtship of the capercaillie from close by.
As you zip up the portable tent and make yourself comfortable inside, it's time to lie down and listen to the sounds of the forest around you. Robins, thrushes and dunnocks are singing vividly. After that, it doesn't take long for the first capercaillies to land in the treetops around your tent, where they will spend the night.
Now it is extremely important to be quiet and calm so that you don't scare the birds. If they are not disturbed, they might put on a fantastic show for you the next morning. Perhaps you will fall asleep to the vibrating song of the Boreal owl.
If you are not up to this challenging capercaillie courtship activity you can alternatively book a 5-hour moose safari including outdoor meal.
DAY 4 – THURSDAY 27 APRIL 2023
You might wake up by the whistling of a Pygmy owl. At that point, it is time to get ready and locate the capercaillies in the treetops around you. Soon they will descend to the ground and move around with their tails fanned as they utter their equally harsh sounds and surprisingly fine tunes. You will then witness a great spectacle!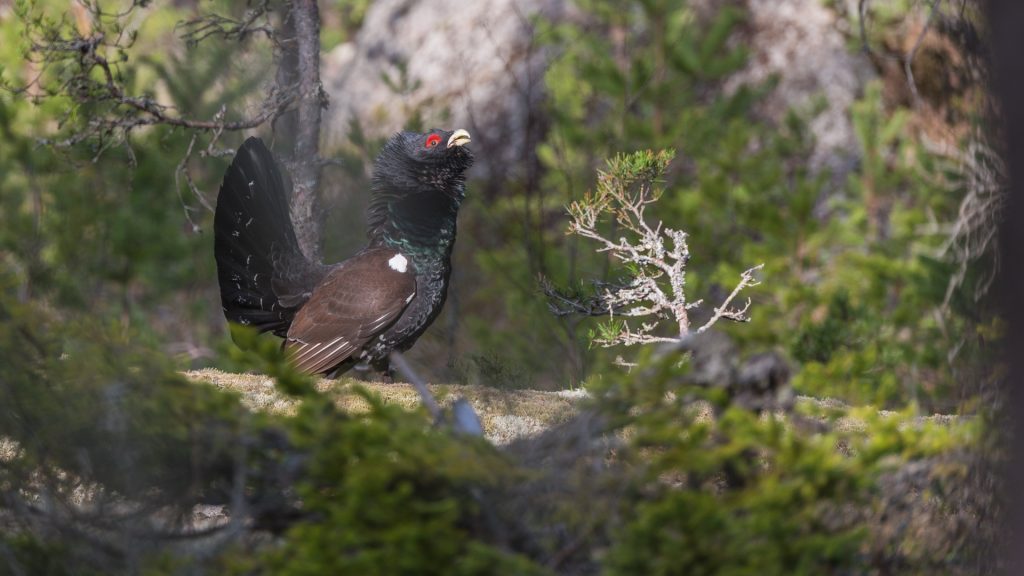 After the lek you will return to the B&B for a well deserved lunch and some day rest. You will need it to stay awake in the bear observation hide tomorrow night. In the evening you can enjoy another 2-course dinner.
DAY 5 – FRIDAY 28 APRIL 2023
After a good night's rest and breakfast, you will have to check out from the B&B before noon and drive to Järbo. It is a 1.5 hour drive from Krylbo to the visitor center in Järbo where you should arrive no later than 2 pm.
On your way to Järbo you can visit the copper mine of Falun which is recognized as a UNESCO world heritage site: https://www.falugruva.se/en/. In that case you will have to leave the B&B a few hours before noon.
At 2 pm, when you meet up with the guide at the visitor center, you will learn all there is to know about bears and your upcoming stay in Sweden's southernmost bear hide. An open sandwich and coffee/tea will be served and around 3.30 pm you will be transported to the hide in which you will stay overnight. It could be a hike if the weather conditions require this (melting snow). A packed evening meal consisting of a pasta salad, sandwiches, fruit, juices and coffee/tea is included.
This hide has been especially constructed for watching bears and other animal species. It is situated on a slight elevation and offers views in 3 directions, accommodates 4 people and has several camera holes. In this mossy pine forest with large boulders a bear can surface at any time.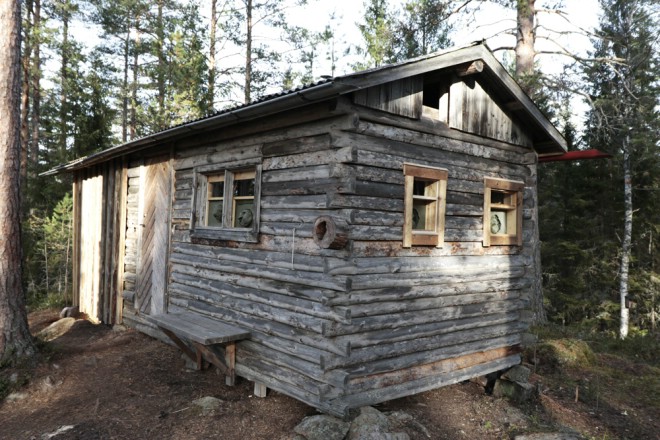 A new bear observation hide (bigger and with photo openings on several levels) is currently being built, no pictures available as of yet.
You are going to spend a very exciting night in the hide (shared with other nature photographers), you will mostly see birds and squirrels. If you are quiet enough, there is also a chance of seeing wild brown bears who are hungry after their hibernation.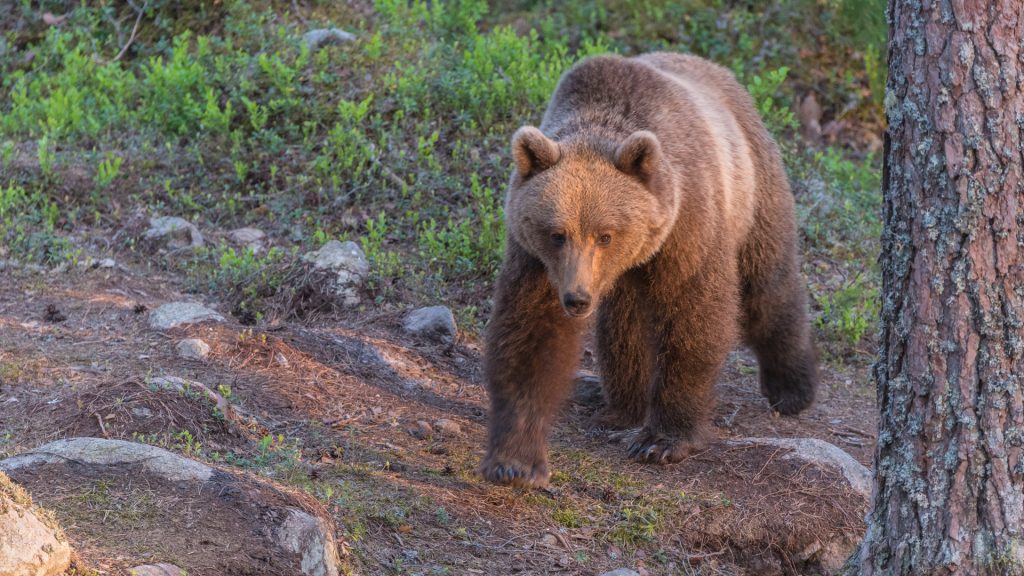 DAY 6 – SATURDAY 29 APRIL 2023
The next morning you will be picked up at the hide around 8 am and after a transfer to the visitor center, breakfast will be served.
Hopefully you will have a lot to talk about regarding your experiences from the previous night. Staying in the bear observation hide is tiring because you have to alternate sleeping so that someone is always awake to spot bears. On a successful evening you hardly get to see your bed.
After breakfast you can rest in one of the guest rooms in the visitor center or use the bathroom to freshen up if desired.
When you have rested sufficiently, you will start your journey homewards. Unfortunately your trip in Central Sweden has come to an end but I'm sure you will have enjoyed it. From the visitor center it is a 2 hour drive to the airport of Stockholm.
All the activities take place in the wild, meaning that although you will be visiting the location where these animals live, no guarantees can be given as to what you will get to see/photograph.
Price details Central Sweden bird & bear photography tour spring 2023:
Travel duration: 6 days / 5 nights
Travel costs: 17.030 SEK for 1 adult (15.695 SEK if you book the moose safari instead of the capercaillie courtship activity)
Included: overnight stays on full board including bed linen and towels, mentioned activities & mentioned meals.
Not included:
Transport to and from Sweden and within Sweden (around 1.100 km to drive for this tour)
All food and drinks unless included in the activity (mentioned in the program above)
Optional excursions
Travel, hospitalization and cancellation insurance
Personal expenses
Payment conditions:
The advance of 30% has to be paid at booking by bank transfer in Swedish krona. The balance of 70% of the total travel amount should be paid no later than 3 weeks before the starting date of this tour (due date: 3 April 2023)
Summary included accommodation, meals and activities
| | |
| --- | --- |
| DATE | ACTIVITIES & MEALS |
| Monday 24 April 2023 | Overnight stay in the B&B including 2-course dinner |
| Tuesday 25 April 2023 | Osprey safari, breakfast, day stay in the B&B including lunch, overnight stay in the black grouse hide including dinner |
| Wednesday 26 April 2023 | Breakfast, day stay in the B&B including lunch, overnight stay in the capercaillie portable tent including dinner |
| Thursday 27 April 2023 | Breakfast, day rest in the B&B including lunch and 2-course dinner |
| Friday 28 April 2023 | Breakfast, overnight stay in the bear hide including packed dinner |
| Saturday 29 April 2023 | Breakfast in the visitor center |
Booking: Contact me via e-mail sylvia@amazingscandinavia.com or by phone +46 (0)70 230 68 70