This 7-day guided tour of which 5 hiking days takes place around lake Grövelsjön, on the border between Norway and Sweden. Experience the ultimate adventure on this mountain range, the focus during this hike will be on wilderness, vastness and silence. It is the most popular hiking area of Swedes and less crowded than the King's Trail so you don't have to queue up.
The first and last night of this tour you will stay at a beautiful mountain hotel. During the 5-day hiking tour you will spend the night in basic cabins. Spectacular views, variety in nature and yet quite comfortable overnight stays. What are you waiting for? Book this adventure now!
This tour will be guided by a highly experienced, trained and certified Swedish mountain and wilderness guide.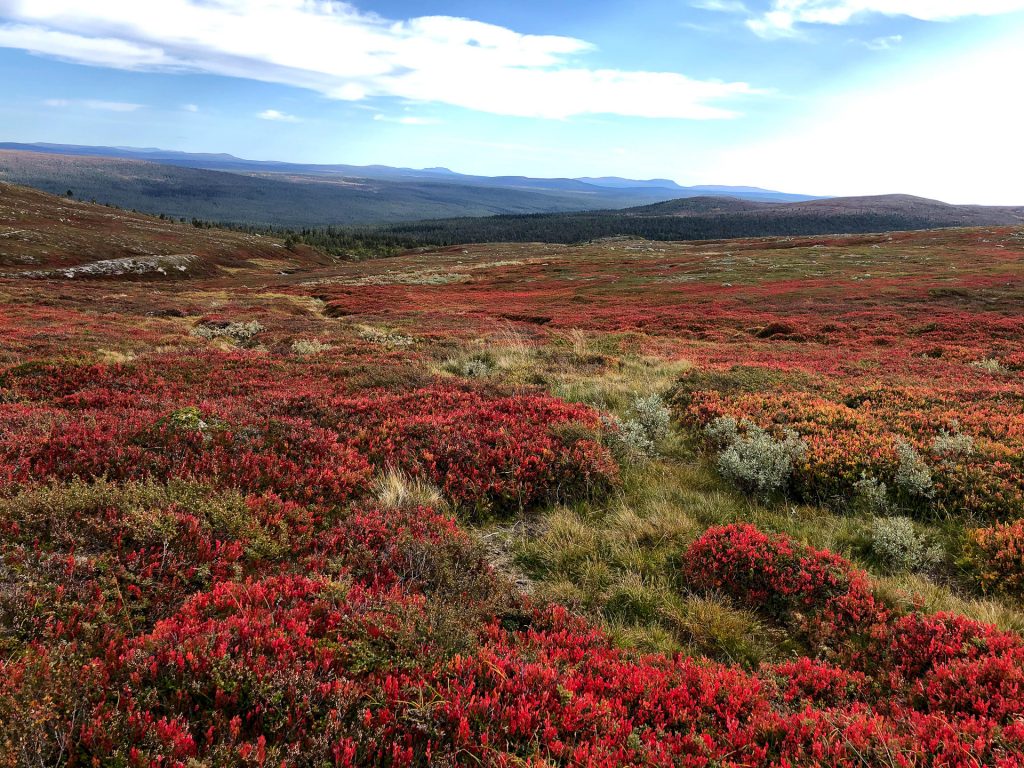 You will do this!
Discover the mountainous region around lake Grövelsjön on foot
Go on an adventure with a small group of 4 to 7 participants
Enjoy the breathtaking views on the border between Norway and Sweden
Prepare delicious outdoor meals together with your hiking companions
Relax in the sauna on the last evening of this tour
TRAVEL ITINERARY
DAY 1 – DESTINATION GRÖVELSJÖN – MONDAY 7 AUGUST 2023
In the afternoon you are expected at the Grövelsjön mountain station.
After checking in at the comfortable mountain hotel, you can relax in a shared room with private bathroom and prepare yourself mentally for the hike that starts tomorrow.
Today you will also meet your hiking guide.
DAY 2 – FROM GRÖVELSJÖN TO SYLSETH – TUESDAY 8 AUGUST 2023
After breakfast you will start this fantastic multi-day hiking tour at 9.30 am.
By minibus you'll travel, together with your hiking companions, to Valdalen in Norway from where you will hike to the end of the first stage. The end point of this stage is called Sylseth. With a clear sky you can enjoy spectacular views over the surrounding area and lake Grövelsjön. At the highest point of this stage you will do part of the hike that the famous botanist Carl Linnaeus did on his journey to Röros in the year 1734.
Hiking distance: 13 km / Ascent: 340 m / Descent: 360 m
DAY 3 – FROM SYLSETH TO HÄVLINGEN – WEDNESDAY 9 AUGUST 2023
Today the day starts with a steep climb after which you reach the Swedish border. From that point on, the terrain is fairly flat and for a while you don't follow a marked trail. You walk along a lake where the Sami catch their reindeer in early summer so they can mark the calves. After this landmark you descend and follow a path towards lake Hävlingen where you spend the night on the shore.
Hiking Distance: 14 km / Ascent: 220 m / Descent: 200 m
DAY 4 – FROM HÄVLINGEN TO SPÅNGKOJAN – THURSDAY 10 AUGUST 2023
Today the stage is very varied. You start the hike through the forest located on the banks of lake Hävlingen.
You pass the entrance to a very special and difficult to access national park called Töfsingdalen. You follow the hiking trail and enjoy the nature reserve that borders the national park. You pass ancient pine trees and curved birches. You will have lunch halfway through today's hike at an old abandoned summer farm, called 'fäbod' in Swedish. After this you will walk slowly to the valley and the most primitive mountain hut on this hiking tour called 'Spångkojan'. It is beautiful here, the cabin is located in the woods and by the river.
Hiking distance: 15 km / Ascent: 250 m / Descent: 400 m
DAY 5 – FROM SPÅNGKOJAN TO LIVALLEN – FRIDAY 11 AUGUST 2023
Together with your hiking companions, a choice out of 2 different stages must be made. One stage will bring you through a varied forest area and is relatively easy. The alternative hike will bring you over the mountain range with a nice ascent through an old spruce forest. In favorable weather conditions, the alternative route is the most beautiful route.
Alternative 1 – Hiking distance: 16 km / Ascent: 410 m / Descent: 350 m
Alternative 2 – Hiking distance: 12 km / Ascent: 190 m / Descent: 120 m
DAY 6 – FROM LIVALLEN TO GRÖVELSJÖN – SATURDAY 12 AUGUST 2023
Today you walk back to the starting point of this adventure. This last hiking stage is very varied. You start the trip along the river and ascend slowly but surely until you reach the tree line. After this you hike the last part through the mountain area until you reach civilization. At the end of this 5-day effort you will descend towards lake Grövelsjön where you can enjoy the sauna and dinner served at the hotel.
Hiking distance: 17 km / Ascent: 260 m / Descent: 140 m
DAY 7 – THE END OF AN UNFORGETTABLE ADVENTURE – SUNDAY 13 AUGUST 2023
After breakfast this 7-day tour has come to an end and it is time to start your outbound journey.
It is possible to extend your stay with 1 or more days in the province of Dalarna or any other province of Central Sweden. Feel free to get in touch if you would like more information regarding the different possibilities.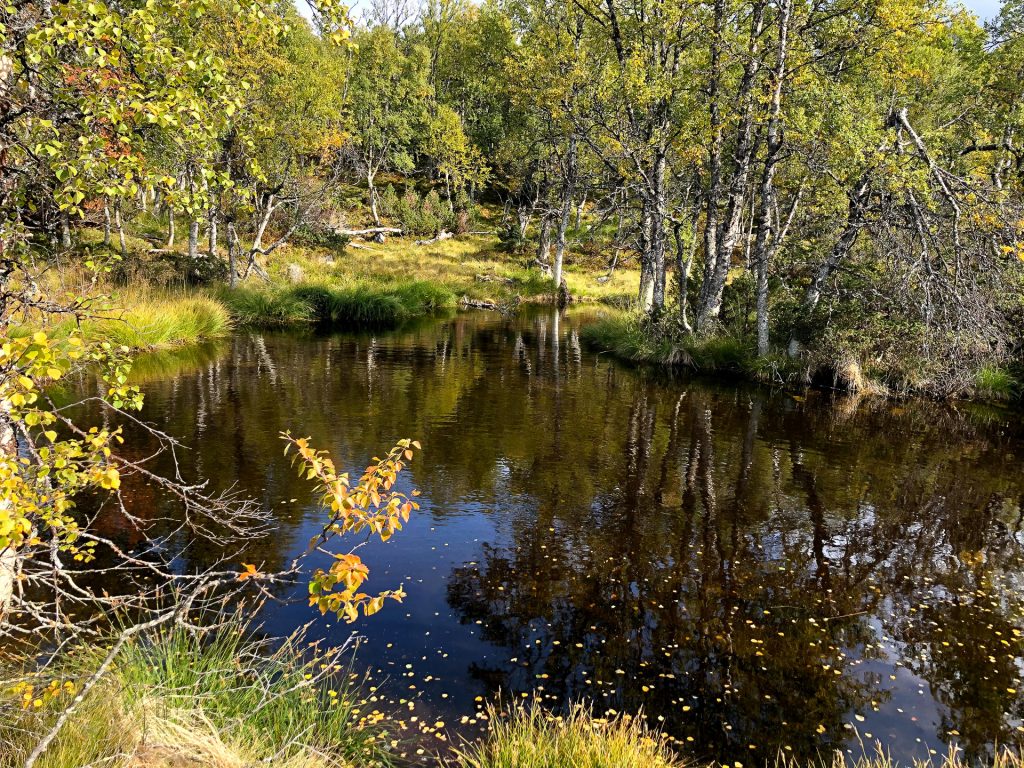 Practical information:
Date: Monday 7 to Sunday 13 August 2023 (7 days / 6 nights)
Meeting point: STF Fjällstation Grövelsjön in Idre. There are several ways to reach Idre. If you travel by public transport, a bus ride of 3.5 hours from Mora awaits you. Mora can be reached by train. It is of course also possible to reach the starting point of this tour with a car.
Accommodation: During this trip you will spend 4 nights in basic hikers' cabins. On the first and last day of this one week hiking tour you will stay at a comfortable mountain hotel in Grövelsjön.
Weather conditions: The average temperature in August is 18 degrees Celsius during daytime and 6 degrees Celsius at night. On average there are 15 dry days during the month of August and rainfall is on average 80 mm.
Accessibility: This hiking tour is suited for the experienced hiker who can easily carry a backpack of 10 kg over a distance of 10 km, this for several days. Because of the kilometers to be covered over occasionally rough terrain, hiking experience is a necessity. The starting weight of the backpack is 15 kg. You can prepare for this hike by regularly taking long hikes carrying luggage. The total hiking distance on this tour is 80 km.
To bring along: A backpack with a capacity of at least 50 L, trekking poles (backpack and trekking poles can be rented), clothing and shoes suited for this multi-day hike (more information regarding the gear you need is available on request).
Group size: This tour takes place with a minimum of 4 and a maximum of 7 participants.
Price: The price is 11.875 SEK per person.
What's included?
Personal guidance from day 1 to day 7
Overnight stay at the mountain hotel in Grövelsjön on day 1 and 6
All meals from breakfast on day 2 up to and including breakfast on day 7
Overnight stays in basic hikers' cabins from day 2 to day 5
Bus ride from Grövelsjön to Valdalen
Use of a sleeping bag liner for the overnight stays in cabins (blankets and pillows are available on site)
Use of a thermos and mug
The price excludes:
Transport to and from Grövelsjön (possibility to book bus and train tickets at a surcharge)
Travel insurance (including evacuation services), hospitalization insurance and cancellation insurance
Personal expenses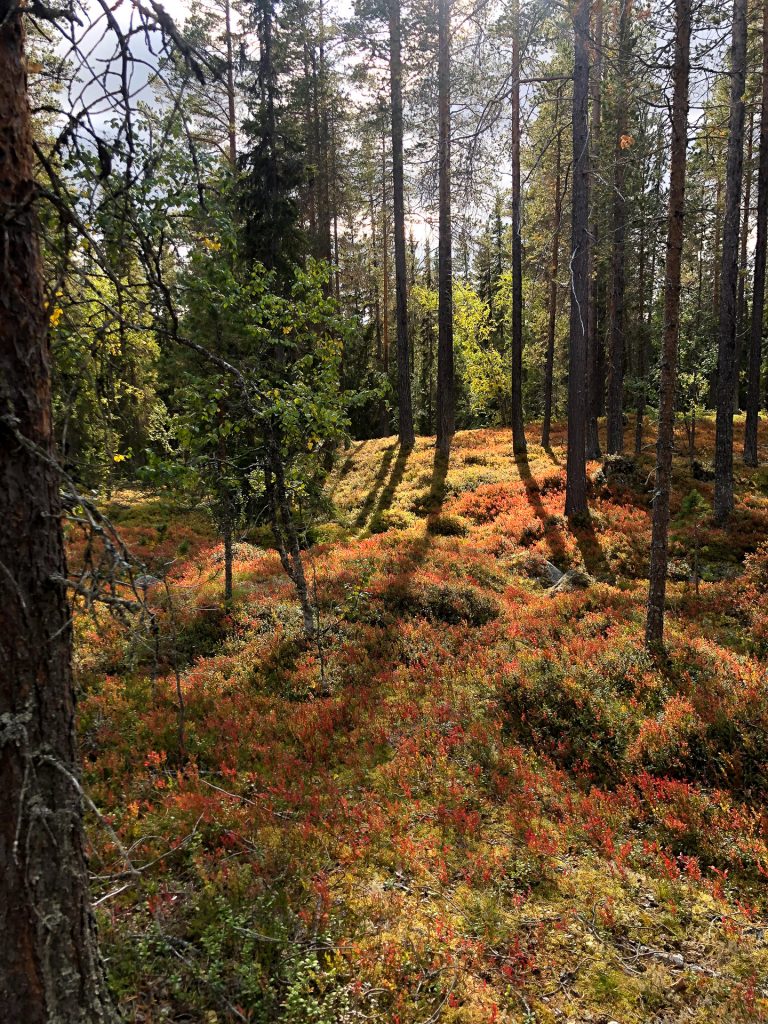 Booking or additional questions: Please contact me via e-mail: sylvia@amazingscandinavia.com or by phone +46 (0)70 230 68 70