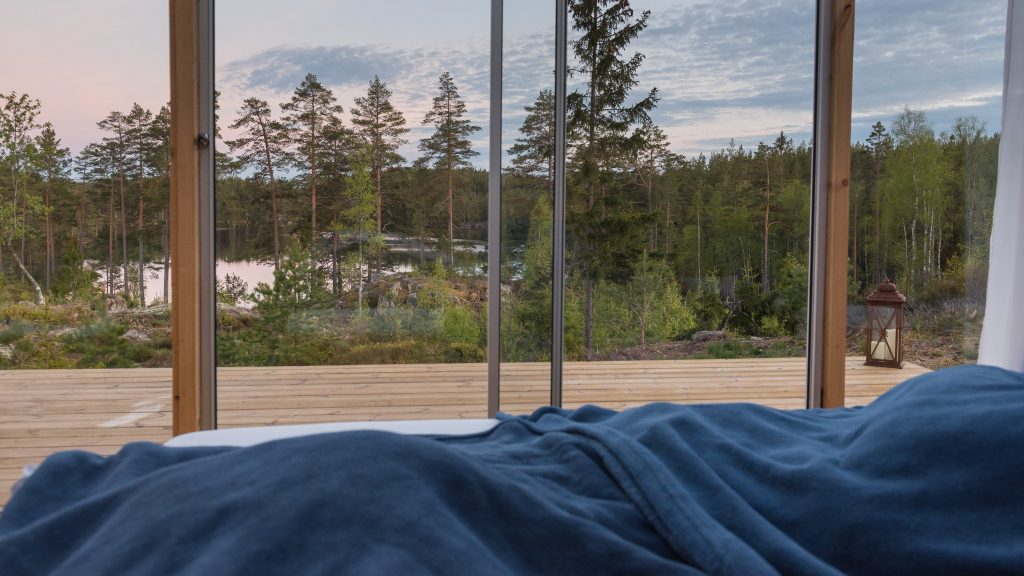 During this 18-day trip you will discover Central Sweden, a paradise for nature lovers. This underdeveloped region when it comes to tourism, is the ideal destination to relax and feel at one with nature. You will spend your 18-day vacation in Europe's densest wilderness, an area with an abundance of wildlife such as brown bears, moose, wolves, beavers, lynx and countless bird species. During this trip you will stay at some unique lodgings in the forest where you can imagine yourself alone in the world, the other nights you will spend at charming B&B's and hotels.
You will do this!
Spend 1 night in a glass house and imagine yourself alone in the world
Discover Europe's densest wilderness on foot
Stay in Sweden's most primitive hostel
Meet the moose, king of the forest
Admire the starry sky from your bed in a swaying moon
Spend 1 night in a bear hide
Go looking for beavers from a boat
Camp in wolf pack area
Route 18-day discovery trip Central Sweden:
Day 1 to 3: Boxholm
Day 4 to 5: Skinnskatteberg
Day 6 to 8: Furudal
Day 9: Korsån
Day 10: Järbo
Day 11 to 14: Ramnäs
Day 15 to 17: Skinnskatteberg
Day 1: A fantastic hotel is situated in the wilderness of the province of Östergötland. Between lakes, meadows and forests and only a 2.5 hour drive from Stockholm, an old rectory has been lovingly restored. There you can escape the rat race, enjoy nature and good food. Today you will spend the night at the hotel where you can check in from 2 pm. You will find a lot of marked hiking and biking trails leaving from and returning to the hotel. There is not a chance that you will get bored here. In the evening you can enjoy a delicious 2-course dinner.
Day 2: After breakfast you start a walk of 6 km to a beautiful glass house. Your luggage can remain in your hotel room. You will get a lunch package with you, the walk takes you through an enchanting forest. Upon arrival at the glass house, where you feel like you are alone in the world, you can enjoy a magnificent view of the lake. After that, it is time to relax. You can use the canoes situated by the lake for free. All ingredients for a barbecue dinner are provided for you, however you must prepare the dinner yourself.
After sunset you can admire the beautiful starry sky, maybe a moose will pass by because you are in the wilderness after all.
Day 3: You have all morning to enjoy this unique location. After breakfast you can swim in the lake or use the canoes once more before starting the journey back to the hotel on foot. Your luggage will be picked up for you just like it was brought to the glass house yesterday. Tonight you can enjoy a delicious 2-course dinner and later in the evening the use of a small hot tub is included. You will spend the night at your hotel room.
Day 4: You must leave the hotel by 10:30 am at the latest and continue your journey to the province of Västmanland. At 2 pm you are expected to arrive at a unique location in the woods. Upon arrival I will welcome you and give you a lot of information about what to experience in the region. You will also get topographic maps and books with detailed one day walks which you can use during your stay.
Tonight and tomorrow night you will spend the night at Sweden's most primitive hostel. An unforgettable adventure in the forest of Skinnskatteberg awaits you. You will stay in a charming charcoal hut. More than that you cannot expect, there is no electricity nor running water. Imagine yourself falling asleep next to the crackling fireplace and waking up by the beautiful songs of birds. Silence and wilderness surround you and offer you the chance to cut your own wood or feast on blueberries that you can pick in the area. You can also enjoy a visit to the floating sauna or rent canoes.
In the evening you have an exciting activity planned. At that time you will go out to spot the king of the forest, the moose. First you will walk through an ancient forest, the guide will explain you everything there is to know about these impressive animals and their environment. Afterwards you will enjoy an outdoor meal by the campfire and later in the evening you will join the guide in search of these animals from a minibus. This excursion lasts 5 hours, return is late at night.
Day 5: Today you choose how you want to spend your time. You can chop wood for the fireplace or pick blueberries from the roof of your hut. You can connect to silence and nature instead of a WiFi network. Consider a visit to the floating sauna, rent a rowing boat or canoe or relax in the wood-heated bathtub with an impressive view (at an additional cost).
At lunch you will prepare a traditional workers meal. You will be provided with a basket containing the recipe, instructions on how to prepare the meal, ingredients and drinks.
Day 6: After breakfast it is time to travel onwards to the province of Dalarna. Your next lodgings are only a 3 hour drive away. On your way to Furudal you can visit the cozy city center or the copper mine of Falun, the latter has been recognized by UNESCO as world heritage site. Not only the underground tour is interesting, above ground there is also a very instructive museum.
Once you arrive in the Swedish countryside, on the edge of the wilderness, you can check in at a farm dating from 1910-1917. Mireille and Willem will be welcoming you, they escaped the rat race with their children in 2014 when they moved from The Netherlands to Sweden.
Tonight you will spend in a large swaying big red moon, hanging between pine trees at a height of 3 meters. In the evening you can just look at the starry sky from your bed through the dome window. Breakfast will be served in the shared outdoor kitchen.
Day 7 and 8: You will stay on the same farm today and tomorrow, but in a cozy holiday apartment.
There is a lot to experience around Furudal. You can go for a walk, with or without a torch and guide. Have you ever done a forest therapy session? If not, I can definitely recommend this. You can also learn to make cinnamon buns or crispbread or go mountain biking. You will receive numerous tips from the host and hostess about what to experience in the area.
Day 9: Today you will travel to your next B&B, which is located a short 2 hour drive to the Southeast. In the middle of the woods an infinitely charming inn, located in a small hamlet, awaits you. The comfort is rather basic but the environment is like waking up in an enchanting dream. The rest of the day you are free to enjoy your holiday, you will certainly be able to relax in such an overwhelming natural environment.
Day 10: On day 10 of your holiday you can walk around in the breathtaking area that surrounds the B&B. The pristine forests around Korså Bruk are teeming with wildlife and you can easily bump into a moose, beaver or bear. Swimming in the vast lake offers you a chance to enjoy the surroundings and with a bit of luck you can see an osprey flying above your head. In the afternoon you will start your next, extremely exciting activity. At 2 pm you are expected in Järbo, there you will learn all there is to know about bears and your upcoming stay in a bear hide. An open sandwich and coffee/tea will be offered and around 3.30 pm you will be transported to the hide in which you will stay overnight. You are going to spend a very exciting night in the hide, you will mostly see birds and squirrels. If you are quiet enough you might be able to see wild brown bears.
Day 11: In the morning at 8 am you will be picked up by the owner of the bear hide and you will be offered a breakfast buffet in her photo gallery. Hopefully you will have a lot to talk about when it comes down to your experiences from the previous night. A stay in the bear hide is tiring because you have to alternate to sleep so that someone always stays awake to spot bears. With a successful evening you will have hardly seen your bed. If needed you can rest in one of the guestrooms or use the bathroom to freshen up before you travel back from the province of Gästrikland to the province of Västmanland.
From 3 pm you can check in at a traditional B&B located in Ramnäs, a 2 hour drive South of Järbo. There you will have a fully equipped holiday home at your disposal, located on a sheep farm in the middle of wolf territory. You are free to do what you want for the rest of the day.
Day 12: Today you can go hiking in one of the many nature reserves of Västmanland. Would you rather admire the king of the forest from up close? Then you should definitely visit the Gårdsjö moose park. Or why not enjoy the pasture view from the terrace with a glass of wine and/or a good book, after all it is your holiday.
Day 13: Today you can visit the medieval city of Arboga, the oldest Swedish water action park Kokpunten, the cider and apple juice tasting in Köping or one of the many other attractions in the region.
Day 14: On day 14 of your vacation you have a canoe at your disposal for up to 6 hours. Lunch, snacks and a detailed map will be provided.
Day 15: You must check out of the holiday home before 11 am. From 3 pm you can check in at the impressive country house in Färna. The village in which the estate is situated, is located between 2 lakes and is surrounded by the beautiful Färna eco-park. You can swim in the lake, rent canoes, go fishing or hiking. There is also a nice wellness complex with numerous options to relax or get pampered situated on the estate. For the very tasty meals served in the restaurant, only local products from surrounding farms and the vegetable garden of the estate are used.
Day 16: After a delicious breakfast, you can discover Europe's densest wilderness for the last time during this holiday. In the Färna eco-park you can go for numerous walks, spot wildlife or take a last dip in one of the lakes.
In the evening an exciting activity is planned. You will be welcomed at the hotel by a guide who will accompany you on an exciting beaver safari from a boat. This adventure begins with a hands-on introduction to beavers and how to act to increase your chances of seeing these amazing wild animals.
Food will be served on an island and you will spend the long sunset on the lake looking for beavers and beaver tracks. It is only a matter of time before you see the different beaver lodges and several beavers. When darkness falls, you will return to the starting point to finish this 5-hour beaver safari.
Day 17: On the penultimate day of your trip you start the most exciting activity of your journey through Central Sweden, the wolf safari, shortly after noon. Please note that you must have had lunch before the wolf safari starts at 1 pm.
An evening out in wolf territory is a fascinating experience that you will remember for the rest of your life. For many visitors it is the highlight of their visit to Central Sweden. The chance of seeing a wolf is not very high, the chance to hear wolves howl is considerable. During this excursion you will travel in small groups both on foot and by minibus through one of the many wolf territories of Sweden. You have a good chance of seeing wolf tracks and feeling their presence. Because you can never learn enough about wolves, an expert will share his knowledge during this wolf safari. In the late afternoon you will put together the tent camp. In the evening you will enjoy an outdoor meal by campfire. When the evening falls you will go closer to the wolves to increase the chance of hearing them howl. You must be prepared to walk for an hour through unspoiled terrain, often in the dark, in silence. After all you must do an effort to be able to spend time in the habitat of these imposing animals.
Hearing wolves howl is one of the most exciting natural experiences you can have. Although your guide can not guarantee that this will happen, wolves were heard on most tours.
In the evening you will return to the tent camp to sleep.
Day 18: In the morning you will be offered breakfast. Depending on the successes during the night and the location of the wolves, the guide will decide if you must get up early for a short morning stroll. After this you will break down the tent camp and return to the civilized world. This activity ends at 12 o'clock. Your trip through Central Sweden has come to an end but I am sure you've enjoyed it. You travel back home on your own and believe me, the first days you will have to get used to everyday life again. But I assume that your batteries will be recharged.
Price details 18-day discovery trip Central Sweden:

Travel duration: 18 days / 17 nights
Travel costs: from SEK 32.860 per person
Included: Overnight stays including breakfast, mentioned excursions, mentioned meals
Booking: Contact me via e-mail sylvia@amazingscandinavia.com or by phone +46 (0)70 230 68 70