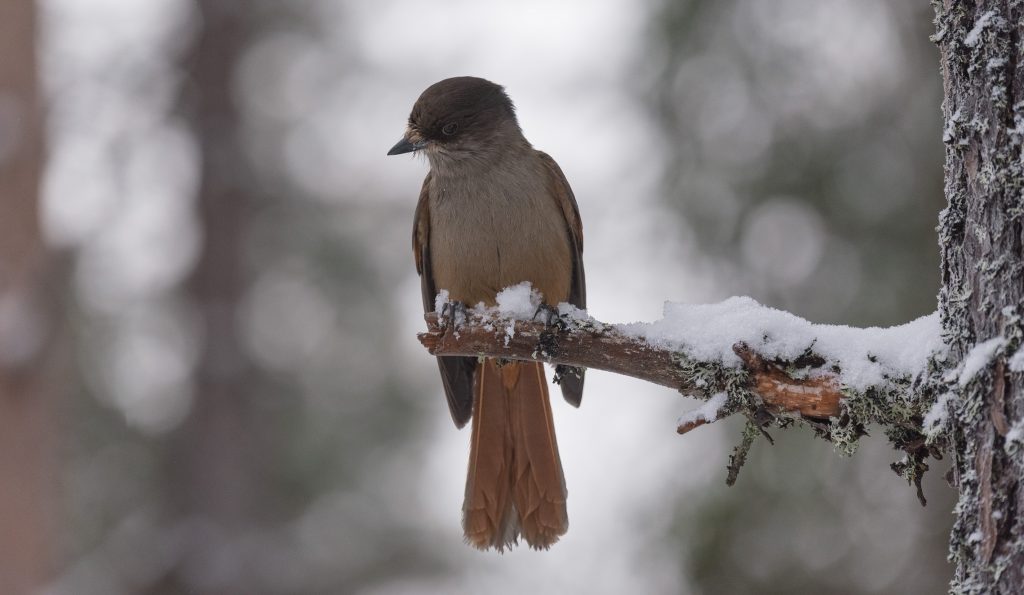 In the northwest of Gästrikland, a special feeding station for Siberian jays, has been set up in the forest. The Siberian jay belongs to the family of the crows and can be recognized by its grey-brown and rust-red plumage. This bird thrives in old spruce forests where it stores its food in up to 5,000 different places. The Siberian jay's enormous memory capacity allows it to later recover up to 90% of its stored stock.
Because these birds are fearless, you can admire them on a winter day from as close as 5 to 7 meters away. Patience and warm clothing are strongly recommended!
Other bird species that you can photograph at the feeding station are: crested tit, great spotted woodpecker, grey-headed woodpecker, great tit, jay, willow tit and nuthatch. There are perches and stumps that you can move at your own will.
You will spend a full day with a guide. At noon you will enjoy a simple outdoor meal prepared over open fire. After lunch and when you are satisfied with your pictures, it is time to return to the photo gallery. There you can take a look at a nature photo exhibition while having a snack. If you'd like to learn more, you can spend some time at the Wilderness School where you can guess in group or individually to which animals the feces, skulls, prints and other traces on display belong.
Practical information
Period: The Siberian jay safari can be booked from 1 December to 1 March; every day of the week except Saturday.
Time: In the morning you gather at 9 am at a photo gallery. After a short half an hour drive, you can prepare yourself at the feeding station to start your observation. This activity ends between 3 pm and 4 pm.
Meeting point: Järbo (Gästrikland), the exact location will be announced when booking.
Accessibility: This activity is open to everyone. The walking distance is very limited as the car will be parked next to the feeding station. However, you must be able to walk several meters through snow. Children of all ages are welcome when accompanied by an adult.
Price: 1200 SEK / person, including: transport to and from the feeding station, outdoor meal (including firewood, sausages and hot drinks), snacks, bird food, sitting mat, warm pillows and the wilderness school. All this guided by a local nature photographer/guide. Ask for special family offers via email.
To bring along: Please bring: winter shoes/boots, warm clothes and socks, camera equipment and binoculars.
Booking: Contact me via e-mail sylvia@amazingscandinavia.com or by phone +46 (0)70 230 68 70
This activity takes place in the wild, meaning that although you will be visiting the location where these animals live, no guarantees can be given as to what you will get to see/photograph.