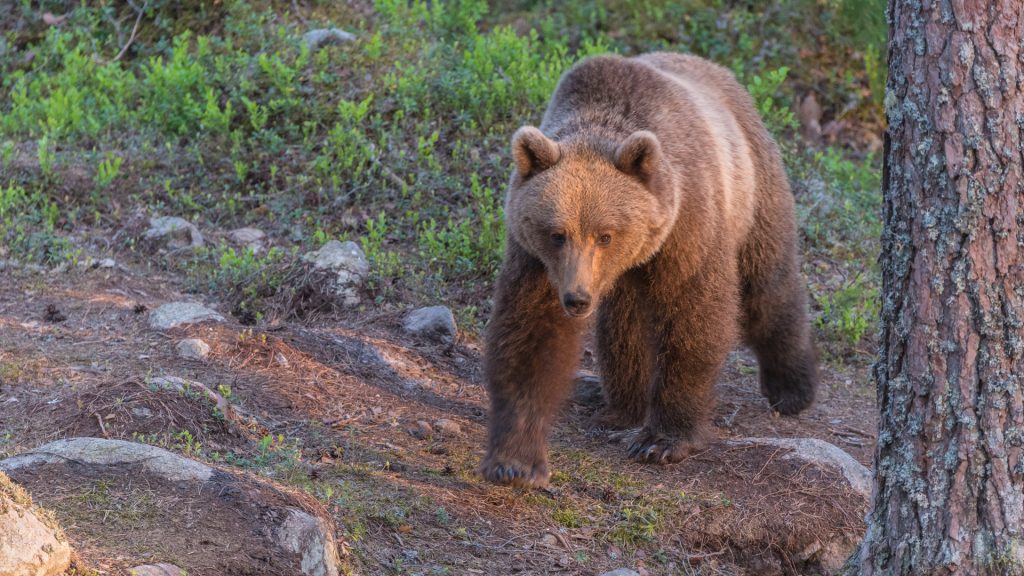 Central Sweden is a paradise for nature lovers and nature photographers. The region is touristically pristine, making it the ideal place to unwind and feel at one with nature. You can swim in one of the hundreds of lakes or hike through untouched forests without encountering another human being; here in Central Sweden it is still possible.
You will spend your 14-day holiday in Europe's densest wilderness, an area with an abundance of wildlife such as brown bears, moose, wolves, beavers, lynx and countless bird species.
A night of adventure in a bear observation hide, a fantastic morning on the water to closely admire the spectacle of hunting ospreys, learning about the impact beavers have on our ecosystem and meeting the king of the forest will make for an unforgettable trip. Are you culture lovers too? Then descend into a 500-year-old silver mine or visit a Unesco-recognised copper mine. During this trip, you will stay in some very charming small-scale accommodations where sustainability is of paramount importance.
You will do this!
Spend several nights near Tiveden National Park
Explore Europe's densest wilderness on foot, by bike or from the water
Photograph ospreys and possibly even white-tailed eagles from a boat
Encounter the moose, king of the forest
Stay 1 night in a bear observation hide
Stroll along the Baltic sea
Spend two nights in a luxurious manor near an eco-park
Learn about the impact beavers have on our ecosystem
Stay a night in a floating hotel room
Enjoy delicious meals prepared with local ingredients
Route 14-day wildlife tour Central Sweden
Day 1 until 3: Tived
Day 3 until 6: Ramnäs
Day 6 until 7: Järbo
Day 7 until 9: Bergby
Day 9 until 11: Skinnskatteberg
Day 11 to 14: Boxholm
TRAVEL ITINERARY
Day 1 until 2 inclusive
On arrival in Sweden, you will travel to Tived. There you will stay 2 nights in a beautiful and cosy double holiday bungalow in the middle of nature, on the east side of Lake Unden.
Here you can enjoy plenty of peace and quiet but it is also the ideal place for active nature experiences. You will stay here on a bed and breakfast basis. Linen and final cleaning are included.
The holiday bungalow, where you can check in from 3 pm, has a view of forest, meadow or lake and is equipped with TV and Wi-Fi. The kitchenette is equipped with ceramic hobs, fridge-freezer, a dishwasher and a capsule coffee machine.
The bathroom is equipped with a sparkling rain shower, washbasin and toilet. The spacious beds in the bedroom ensure a great night's sleep. Comfortable garden chairs can be found on the covered terrace facing south. During the evening hours, you can enjoy a spectacular sunset over lake Unden.
On site is a restaurant where you can order breakfast and dinner. As an evening meal, a dish of the day is served, prepared with local ingredients. You can also enjoy a drink or snack on the terrace. Packed lunches can be ordered on site.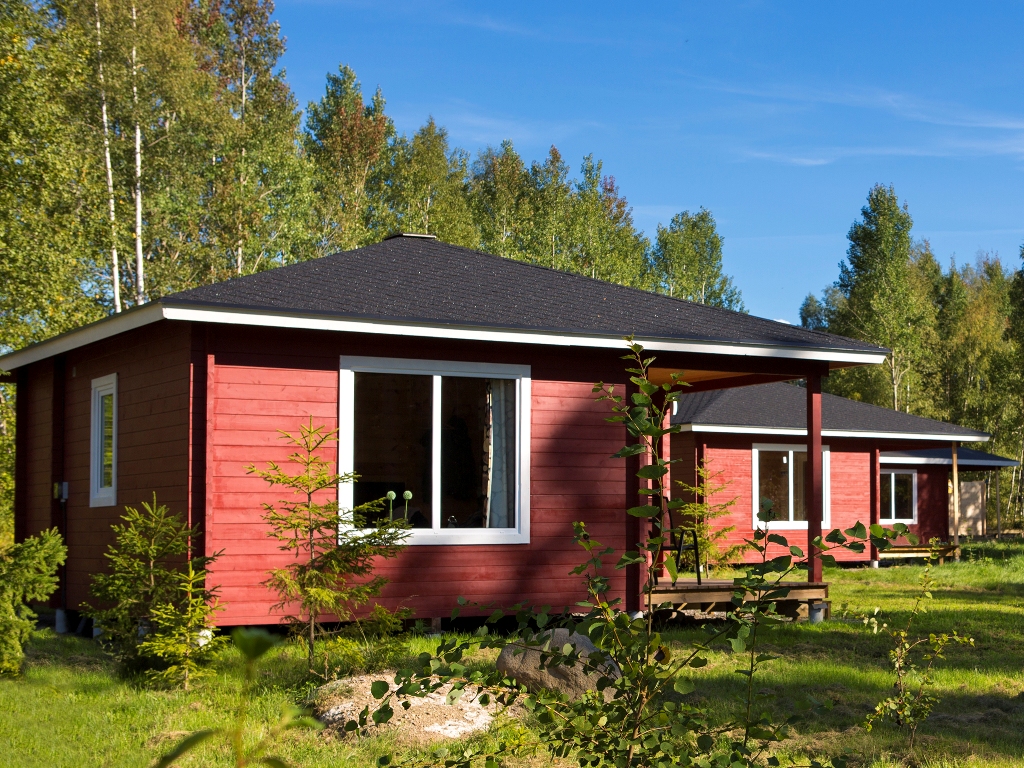 From the holiday home, it is a 150-meter walk to the lake. Here you can swim, fish or take a boat or canoe onto the lake. There is a sauna and outdoor grill available.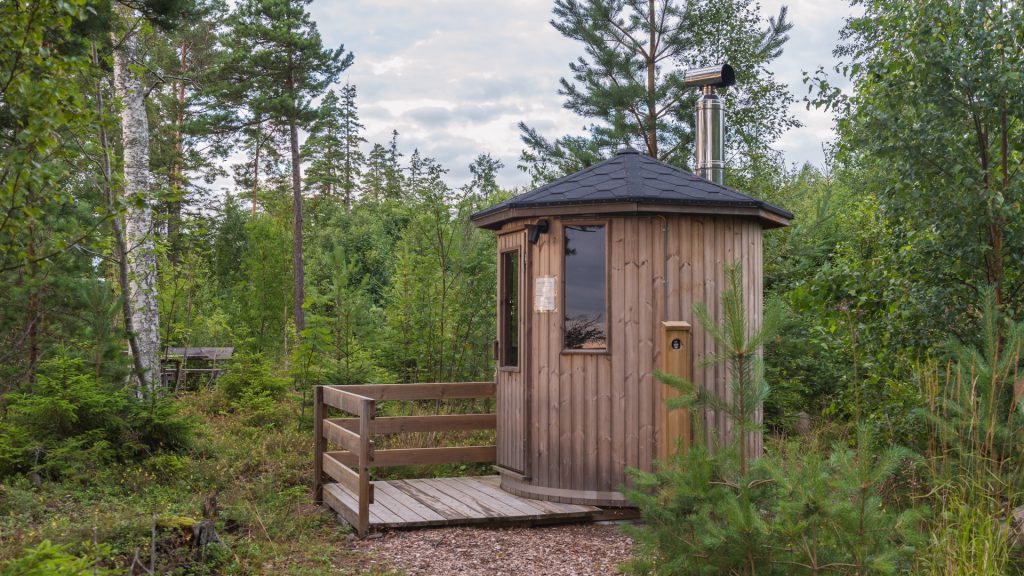 Tiveden national park is a great place for hiking. The host family will be happy to give you tips on the various hiking routes with starting and finishing points on the estate or in the national park. Cycling is also possible though the terrain is better suited for mountain bikes.
In Tiveden, numerous hikes have been mapped out. While distances in kilometers might seem rather low, it is very hilly terrain full of rocks which makes the hikes take much longer. This magnificent primaeval mountain range, formed during the Ice Age, is surrounded by deep crystal-clear lakes and forests. It is truly a unique area, where the kilometres-thick layers of ice brought along huge boulders, and glaciers have given the curves to these mountains over thousands of years. There are a dozen challenging trails to hike and scramble among these exciting rock formations, canyons and caves.
Description of the hiking trails in Tiveden national park
Small villages and towns, such as Askersund on the northern side of Lake Vättern, the Karlsborg fortress, the Gota Canal and the lock at Forsvik, offer a number of museums and sights.
Day 3 until 5 inclusive
At 10.30 am at the latest you will travel on to your next accommodation, located in a small hamlet called Ulvsbomuren. This hamlet is situated just over 2 hours' drive northeast of Tived (184 km).
On the way to Ramnäs, you can visit the city of Örebro where you can stroll in the cozy city center and also visit the beautiful castle.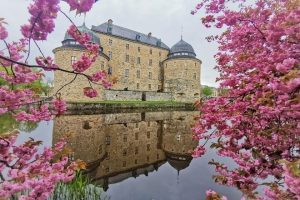 In Ulvsbomuren you will find a traditional Swedish holiday home at your disposal, located on a sheep farm. You can check in between 3 pm and 4 pm.
You will stay here for 3 nights on a half board basis. On two of the evenings a delicious 2-course dinner prepared with local ingredients will be served.
A comfortable bathroom and kitchen are part of the standard equipment, but there is no television. A stack of reading material offers plenty of opportunity to relax. In short: all the ingredients to completely unwind in Swedish nature.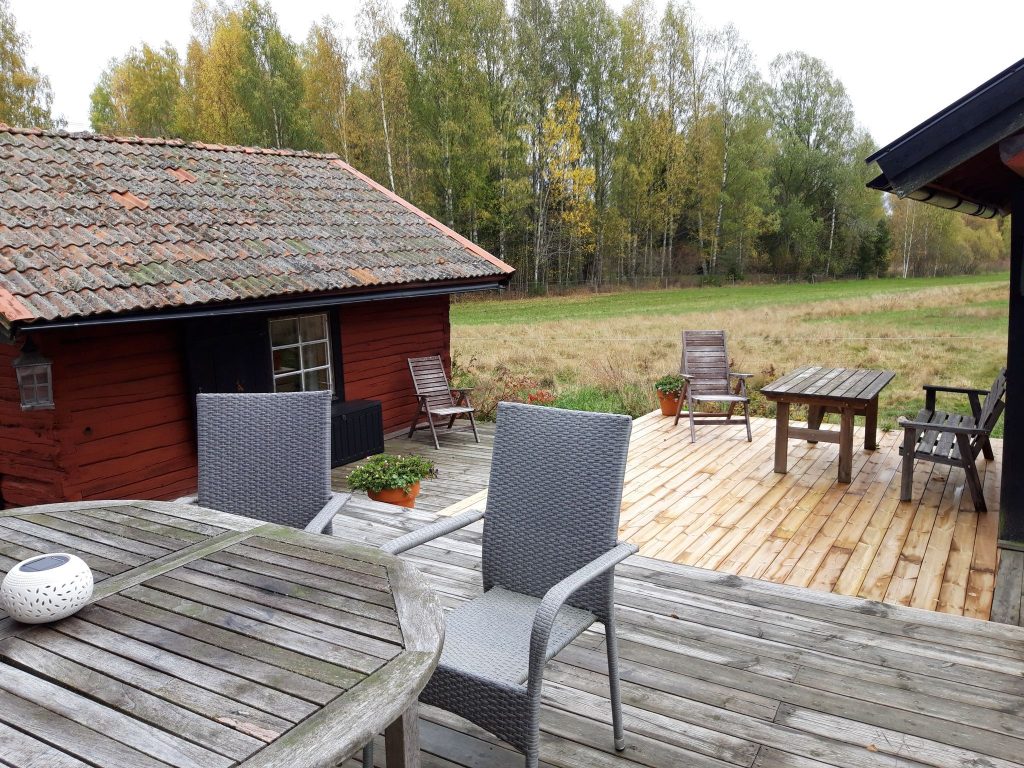 On day 5 you will have to get up early for an osprey safari. Next to the bear observation hide this is the best activity for nature photographers!
From the holiday home it is a 1 hour and 10-minute drive to Torshälla where you are expected to arrive by 5 am at the latest.
You'll take passage on a small boat which will sail over lake Mälaren, the 3rd largest lake in Sweden. Soon you will be joined by large groups of cheeky gulls, which are very nice photo subjects and a good way to practice on photographing birds in flight!
However, these gulls mainly serve as a lure for the ospreys. You are given the chance to take unique shots of ospreys as they descend towards the water surface to catch the fish that are being tossed towards them from the boat. The ospreys might catch fish within 5 meters of the boat.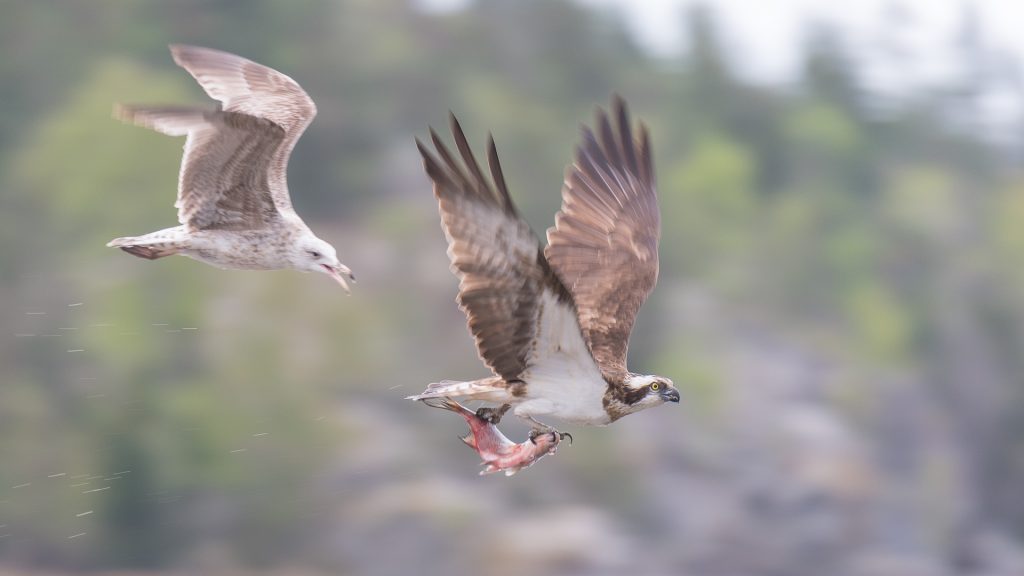 Several white-tailed eagle pairs also breed in the area and one pair in particular is regularly seen competing with the ospreys.
Once you are satisfied with what you've seen and the captain is out of fish, it is time to return to the harbor.
In the evening another exciting activity is planned. You will go in search of the king of the forest, the moose.
First you take a walk through a piece of ancient forest, while the guide tells you all about these impressive animals and their habitat. After the hike, you will enjoy an outdoor meal by campfire and later in the evening you will join the guide in search of these impressive animals from a minibus.
This excursion takes 5 hours, and the return is late in the evening.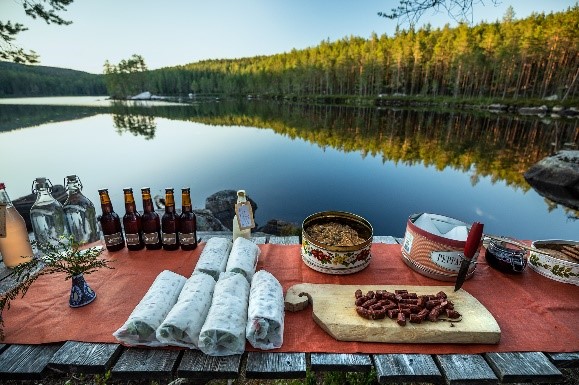 During your stay in Ramnäs, you can visit the more than 500-year-old Sala silver mine, the medieval town of Arboga, the cider and apple juice tasting in Köping or 1 of the many other attractions in this region. It is also worth exploring several sites of the Bergslagens ecomuseum.
You can also visit the burnt forest Hälleskogsbrännan. This is an impressive nature reserve that burned down in 2014. Several walks are marked in the nature reserve and there is also a lookout tower with an impressive view.
Recover after hiking by eating pastries in 1 of the traditional pastry shops in the region, for this I can highly recommend Elsa Andersons konditori in Norberg.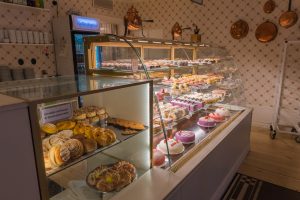 Are you also interested in cultural-historical heritage? Then you should definitely visit the world's best-preserved oil refinery as well as the UNESCO-recognized world heritage site located in Ängelsberg.
Day 6 until 7
On day 6 you will have to check out from the holiday home before 11 am. You will travel to your next destination, situated in Järbo. The meeting point is just over a 2-hour drive north of Ulvsbomuren (151 km).
On the way to the visitor centre you can visit the cosy city centre of Falun or the copper mine. The latter is recognised as a UNESCO World Heritage Site.
After arriving in Järbo, no later than 3 pm, you will get all explanations about bears and your upcoming stay in a bear observation hide. An open sandwich and coffee/tea will be offered to you and around 4.30 pm you will be taken to the hide where you will also spend the night. You will mainly get to see birds and squirrels. If you are quiet enough, with a bit of luck you will also get to see wild brown bears. Food and drinks are included during your stay in the hide. The packed lunch consists of: a pasta salad, sandwich, fruit, juice and tea or coffee.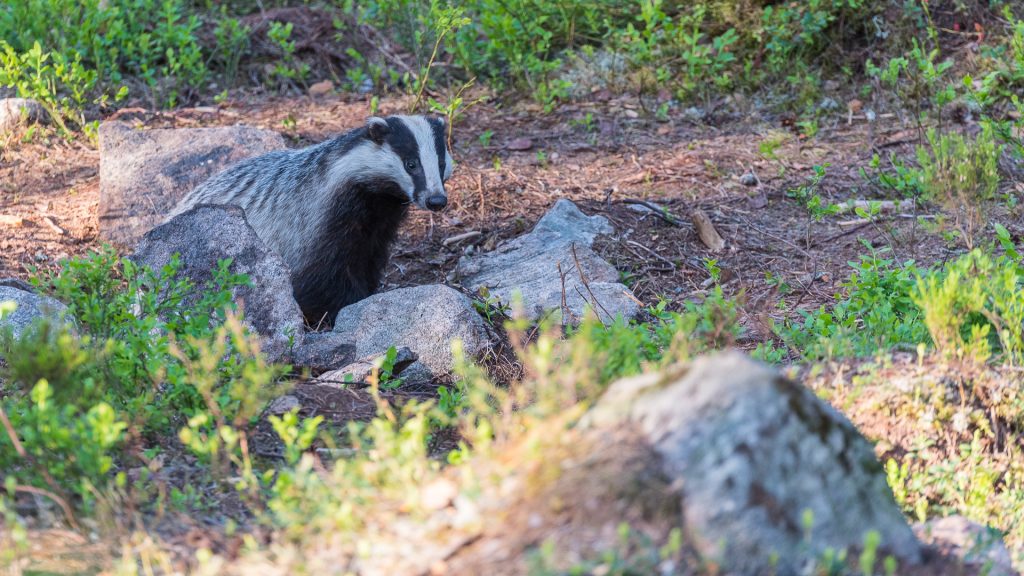 Day 7 until 8 inclusive
The next morning you will be picked up at the hide at 8 am and offered a full breakfast at the visitor centre.
Hopefully you will have a lot to tell about your experiences from the previous night. Staying in the bear observation hide is exhausting because you have to alternate sleeping so that someone always stays awake to spot bears. So on a successful night, you barely get to see your bed. After breakfast, you can rest further at the visitor centre in one of the guest rooms or use the bathroom to freshen up if you wish.
Then you travel on to a cozy B&B, located in Bergby. It is only a 50-minute drive from Järbo to Bergby (55 km).
You will stay in Bergby for 2 nights on a room and breakfast basis. Sincere hospitality and beautiful natural surroundings with plenty to do await you. Located near the Baltic Sea, this B&B is the ideal place to stay for travelers who love the forest and water. You will have a comfortable double room with a private bathroom.
You can go hiking or biking in the surrounding area or take a stroll along the Baltic sea where you can enjoy a delicious meal at one of the fish restaurants located along the coast. Does grilling a sausage appeal to you? Then why not make use of the traditional grill hut with BBQ on the B&B's grounds?
Would you rather relax? You can enjoy the wood-fired hot tub or sauna.
This B&B also features a restaurant where you can get simple meals with prior notice.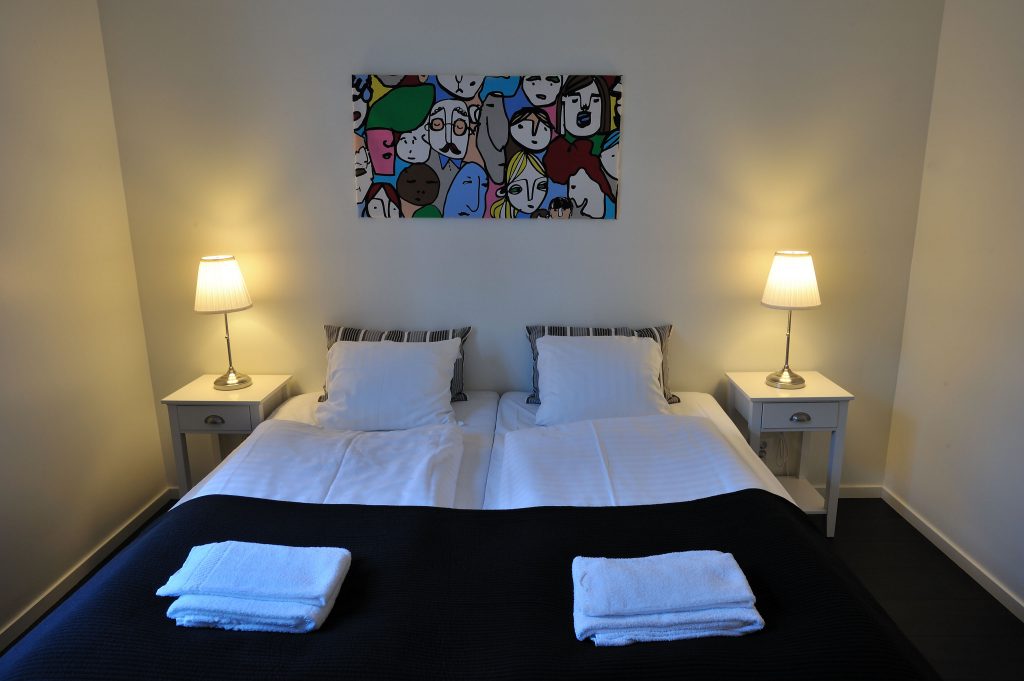 From a photographic point of view, the site of Axmar Bruk and the nature reserve Svartstensudden are particularly interesting.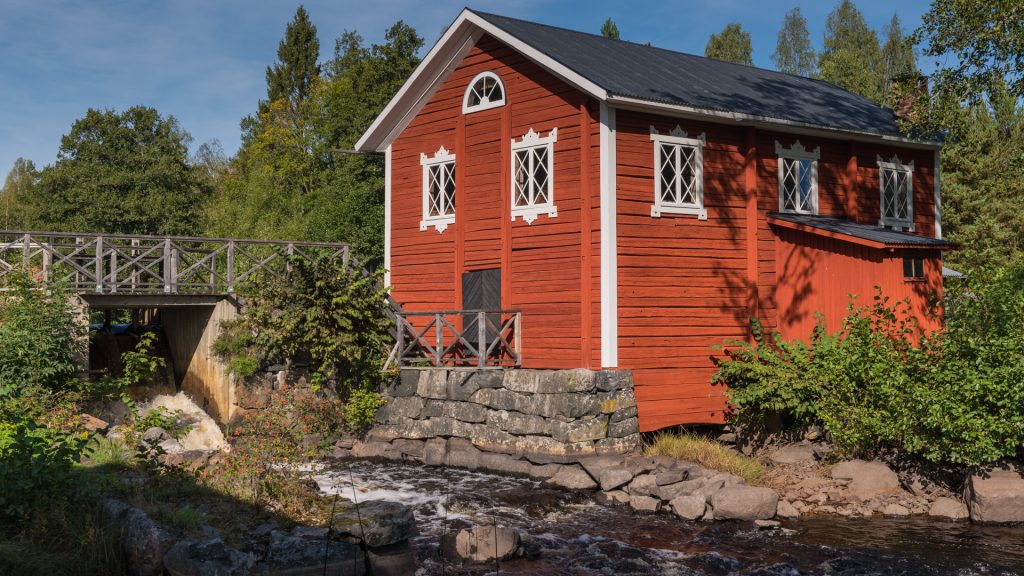 Day 9 until 10 inclusive
From Bergby you travel no later than 11 am to the province of Västmanland where you will spend 2 nights on an impressive estate located in the village of Färna. From Bergby it is a 2.5 hour drive to the southwest (188 km).
Färna, the village where the estate is located, lies between 2 lakes and is surrounded by the beautiful Färna eco-park. On the domain you can also find a great wellness complex with numerous opportunities to relax or get pampered.
For the very tasteful meals that are served in the restaurant, only local products from surrounding farms and the kitchen garden of the estate are used.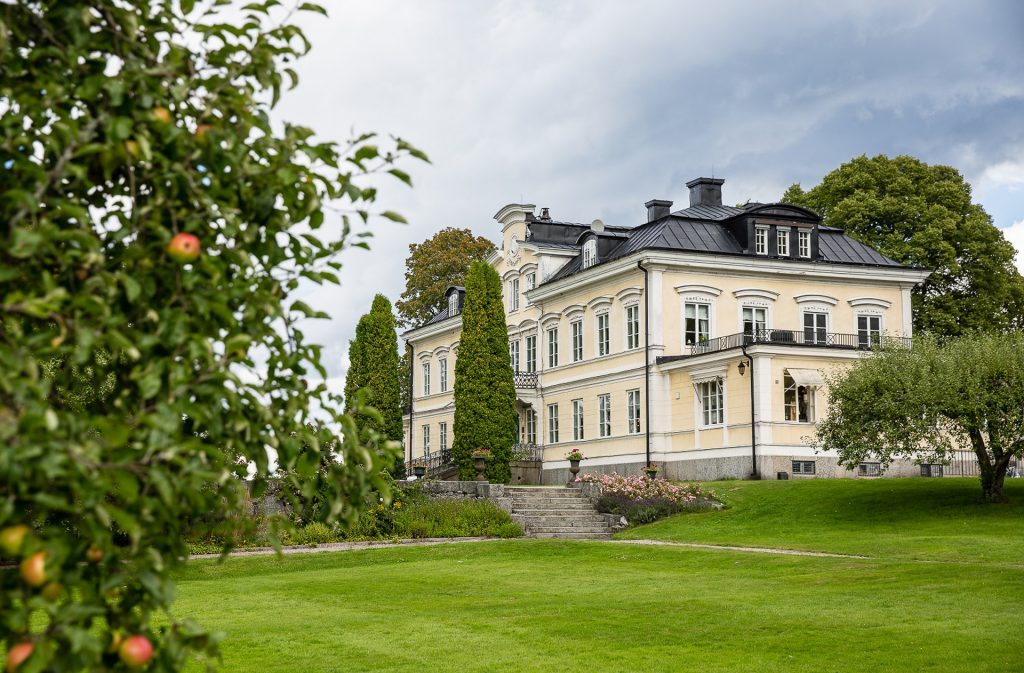 At Färna you can swim in the lake, rent canoes, go fishing or hiking. Several walks of different distances are marked from the hotel.
You will stay here 1 night on a half board basis, the other night on a room and breakfast basis. The first evening you can enjoy a delicious 3-course dinner and in the morning a rich breakfast buffet.
On the 2nd evening you will be welcomed at the hotel by a local guide who will accompany you on an exciting beaver safari from a boat.
On an island you will receive a practical introduction to beavers and how to act to increase your chances of seeing these wild animals. After this, a delicious outdoor meal will be served and you will spend the long sunset on the water looking for beavers and beaver tracks.
It's only a matter of time before you get to see the different beaver lodges and beavers. When darkness falls, you will return to the starting point to complete this 5-hour beaver safari.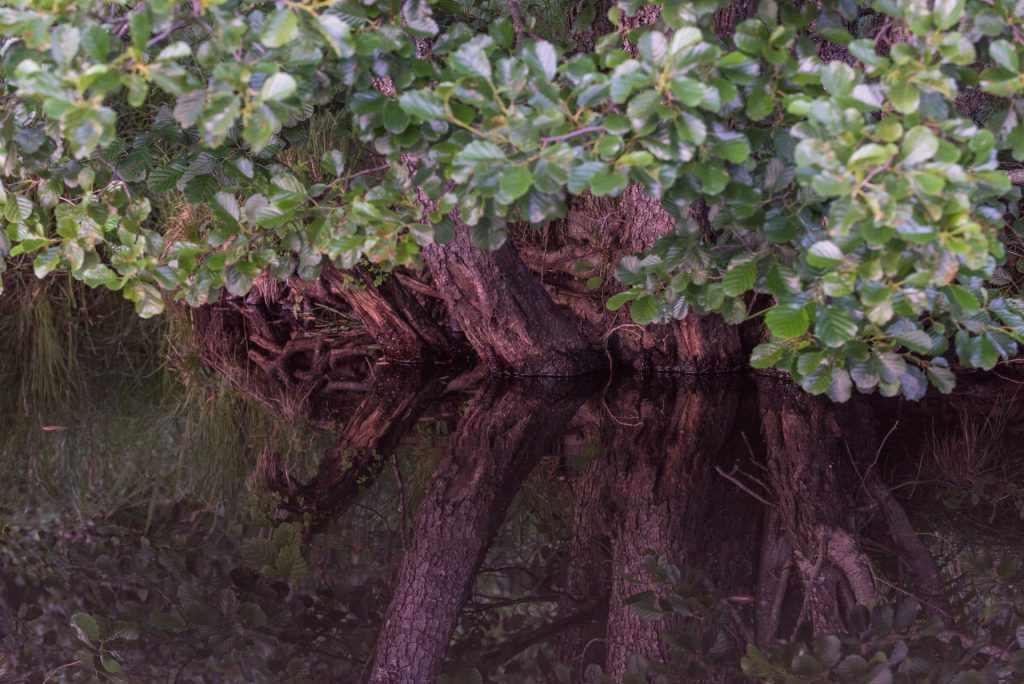 Day 11 to 14
At 11 am at the latest you check out from the hotel and travel to Boxholm situated at a 3 hour 12-minute (256 km) drive south of Skinnskatteberg. There you are expected to check in between 3 pm and 6 pm.
In the wilderness of the province of Östergötland you will find a fantastic hotel. Between lakes, meadows and forests, an old vicarage has been lovingly restored. Away from stress and responsibilities in everyday life, here you can relax and enjoy nature.
You will stay here in Boxholm for two nights in a superior hotel room with ensuite bathroom and one night in a floating hotel room on a full board basis.
Most meals at the hotel are prepared with local ingredients. Some ingredients are locally sourced from the nature around the hotel, such as mushrooms, berries, fish and game. Enjoy your meal in the homely dining room with fireplace, in the veranda or by the lake. The coffee and tea served is fair trade and organic, the coffee is even 100% climate-compensated!
There is a wide selection of wines and other (alcoholic) drinks that can be served with your meal or while you relax in the lounge.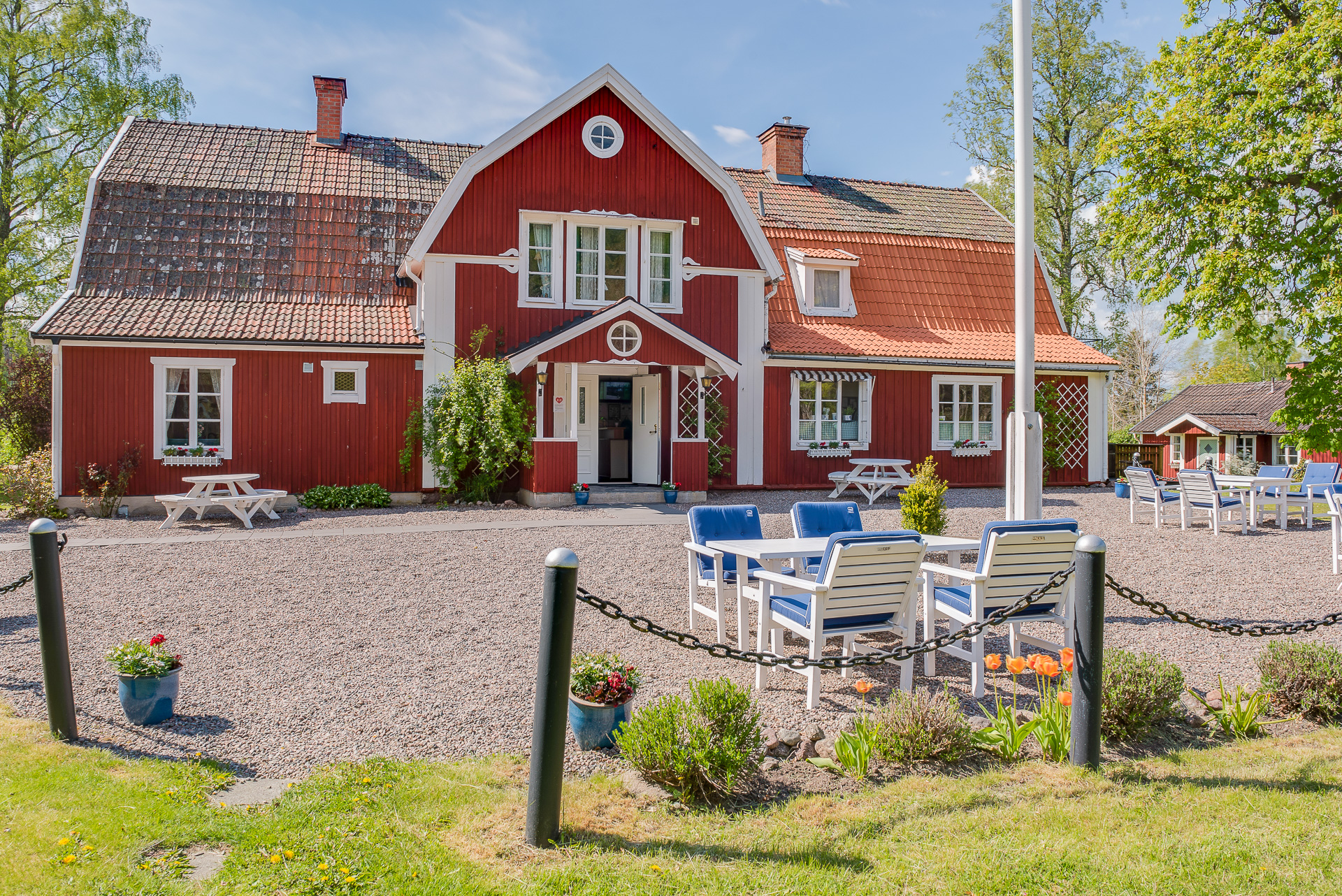 The hotel is the perfect base for hiking, cycling or canoeing. From the hotel, 250 km of hiking trails and 350 km of cycling trails are marked. You can also rent canoes here to discover the beautiful surroundings from the water.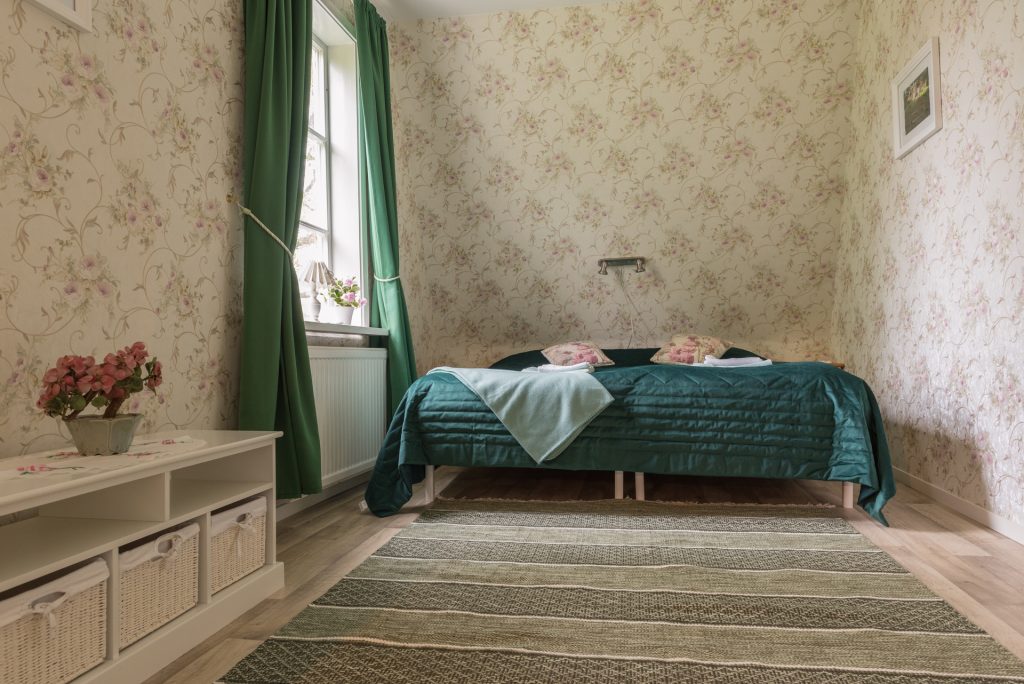 The first as well as the third night you will stay in a superior hotel room. Each evening you can enjoy a 2-course dinner and each morning a breakfast buffet.
On the second day, just after midday, you will go on a fantastic 6 km forest walk to your floating hotel room. You will walk past small lakes, along historic trails and past places with impressive views.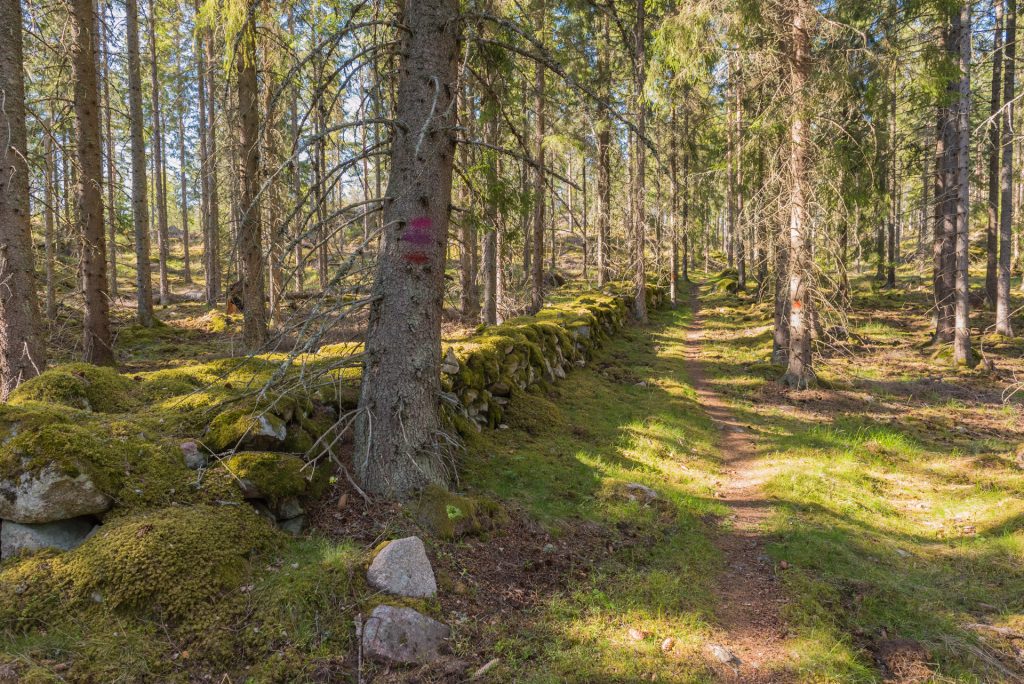 You do not need to bring luggage on your hike, it will be transported for you.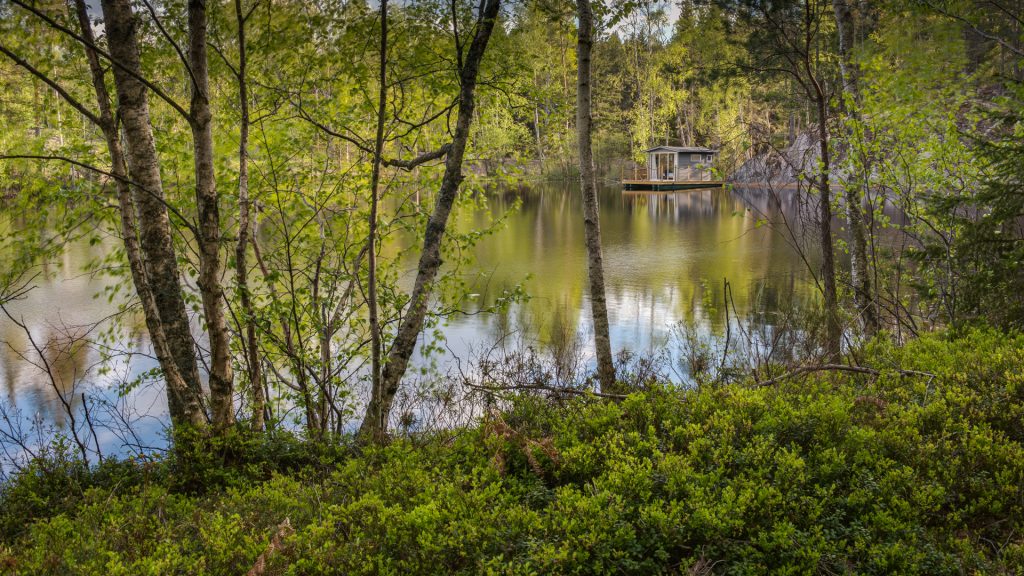 You will stay one night in this 10 square metre floating hotel room. You will have a double bed and a dry toilet. A morning bath happens in the lake. There is no electricity or Wi-Fi network here. So, you really do spend a full day in the middle of the wilderness.
The evenings and mornings here are magical as the mist rises over the water or a bat hunts outside your hotel room window. You have a portable camping gas stove to heat up food or make a cup of coffee.
Anchored on the platform is a canoe that you can use to explore the lake.
A few hundred meters from your room, accessible on foot via a small forest road, is a beautiful fire place next to a lake. Ideal for when you want to enjoy an impressive view and a beautiful sunset by campfire.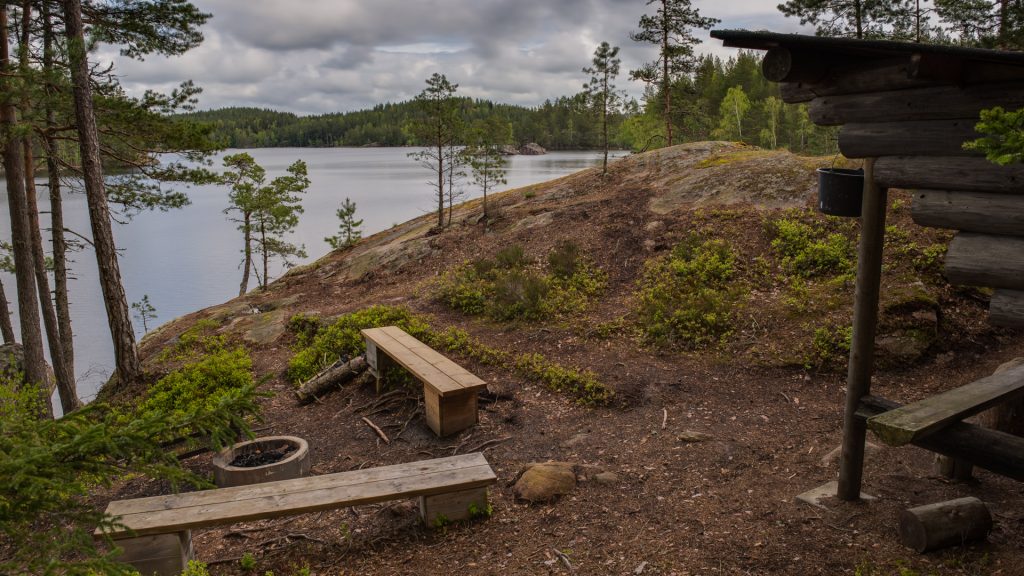 Packed lunches and an evening meal are included during your stay in the wild. There is a small fridge in the room that works on solar panels and 12 V. Meals are kept in the fridge.
On the 3rd day you walk back to the hotel before noon with your packed lunch, which you can enjoy along the route. You follow another track back to the hotel, this time the hiking trail is about 5 km long. In the afternoon you can freshen up in your superior hotel room. In the evening you can enjoy a delicious 2-course dinner served on the summer veranda.
On the 14th day, your holiday will unfortunately come to an end. We hope you enjoyed it and look forward to seeing you again.
Price details 14-day wildlife tour in Central Sweden
Travel duration: 14 days / 13 nights
Travel costs: 28.336 SEK per person on booking in double occupancy
Accommodation: Overnight stays including bed linen, towels and final cleaning
2 nights at a holiday cabin in Tived
3 nights at a holiday home in Ramnäs
1 night at a bear observation hide in Järbo
2 nights at a B&B in Bergby
2 nights at a hotel in Skinnskatteberg
2 nights at a hotel and 1 night in a floating hotel room in Boxholm
Included: Overnight stays on B&B in Tived and Bergby, overnight stays on half board in Ramnäs and Skinnskatteberg, overnight stays on full board in Boxholm, osprey safari, overnight stay in a bear observation hide, 5-hour moose safari, 5-hour beaver safari and the use of a canoe in Boxholm.
Excluded: Transport to and from Sweden, transport within Sweden, insurances (travel, hospitalization and cancellation insurance), non-included meals, all drinks, optional excursions and personal expenses.
Summary included activities and meals
DATE
ACTIVITIES
MEALS
Day 1 until 3
Breakfast on day 2 and 3
Day 3 until 6
Osprey safari, 5-hour moose safari including outdoor dinner
2-course dinner on day 3 and 4,
breakfast on day 4, 5 and 6
Day 6 to 7
Bear observation hide
Breakfast on day 7
Day 7 until 9
Breakfast on day 8 and 9
Day 9 until 11
5-hour beaver safari including
outdoor dinner
3-course dinner on day 9, breakfast on day 10 and 11
Day 11 to 14
Use of a canoe at the floating hotel room
Full board from dinner on day 11 unto breakfast on day 14
Be aware: This tour is bookable from the beginning of May to the end of September. The best light conditions for photography are between mid-May and mid-August.
Booking: Contact me via e-mail sylvia@amazingscandinavia.com or by phone +46 (0)70 230 68 70