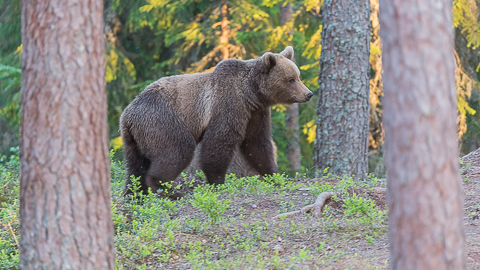 FULLY BOOKED FOR 2022!
In the northern part of Gästrikland, less than a 3 hours drive from Stockholm, you can find Sweden's southernmost bear hide. It has been especially constructed for watching bears and other animal species. The hide which is on a slight elevation and offers views in 3 directions, accommodates 4 people and has 9 camera holes. In this mossy pine forest with large boulders a bear can surface at any time.
You will do this!
Spend the night in a hide in the forest

Photograph numerous birds and mammals

Big

chance of seeing wild brown bears
You will gather in a photo gallery at 3 pm at the latest. While enjoying a snack and a drink, you'll receive information about the activity. After about 90 minutes you will be taken to the hide, where you will spend the night. The hide sleeps 4 and has a basic toilet. Sheets, pillows and blankets are available. Your hostess will pick you up the next morning at 8 am and offer you breakfast. You are free to use the guest quarters (guest room, kitchen and bathroom) should you wish to rest before your departure.
As the bears are very shy, please do not scare them off by making too much noise.
If you are on your own, you will be sharing the hide with others. In 2020 the success rate of seeing bears was 90%. The more quiet you are, the bigger your chances of spotting bears. If they come at a favorable time, the photo opportunities are excellent.
Apart from bears, a variety of birds (great spotted woodpecker, grey-headed woodpecker, jay, birds of prey, etc.) and squirrels can be observed and photographed. Sometimes a fox tiptoes by.
Practical information
Period: The bear hide can be booked from 20 April to 10 September; every day of the week except on Monday.
Time: This activity starts at 3 pm and lasts until 9.30 am the following day.
Meeting point: Järbo (Gästrikland), the exact location will be announced when booking.
Accessibility: This activity is suitable to anyone who can walk without problems.The walk to the hide is only 400 meters, but the forest floor is often uneven and consists of boulders in various places. A short climb to reach the hide at the end of the walk is necessary.
Price: 3000 SEK / person: the price includes tea/coffee and an open sandwich on arrival, transport to and from the hide, overnight stay in the hide, breakfast buffet and access to a guest room where you can rest after having spend the night in the hide. Special price for children and families.
To bring along: suitable clothing (layers), appropriate shoes (for a 400 meter walk to the hide), binoculars, warm socks (slippers are available), your camera material and food and drinks for the duration of your stay in the hide (17:00-08:00, try to avoid bringing refreshments with strong smells and noisy packaging). Don't forget your patience. Please try to be as odorless as possible and avoid perfumes and other strong fragrances.
Booking: Contact me via e-mail sylvia@amazingscandinavia.com or by phone +46 (0)70 230 68 70
This activity takes place in the wild, meaning that although you will be visiting the location where these animals live, no guarantees can be given as to what you will get to see/photograph.
Photos taken by participants: