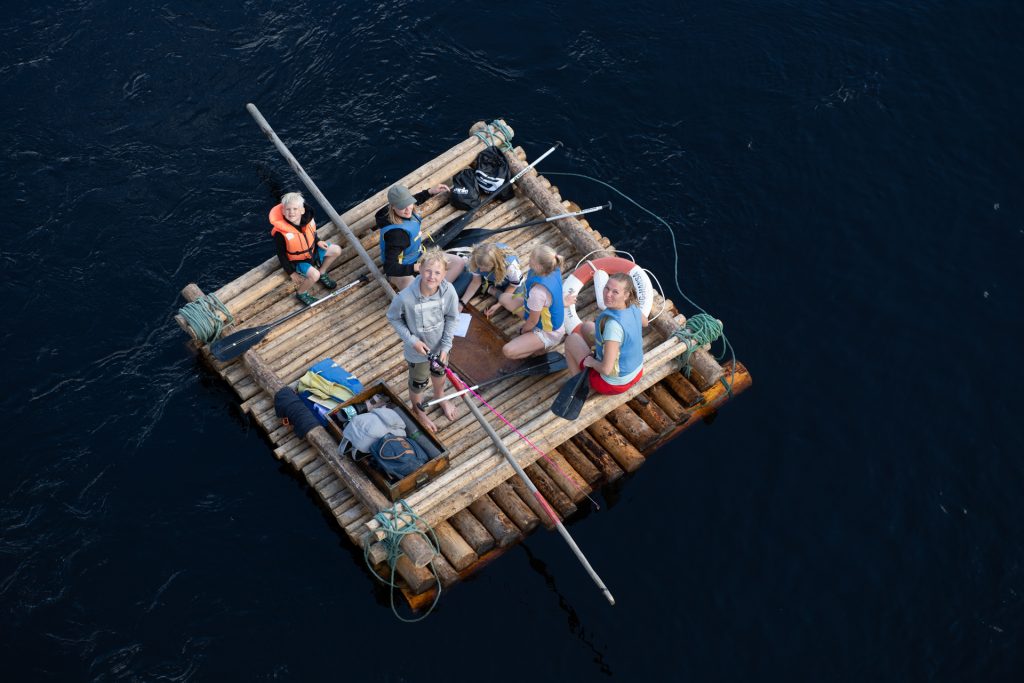 Central Sweden is a paradise for nature lovers. The biggest part of this region is touristically pristine, making it the ideal place to unwind and feel at one with nature. You will spend your 15-day vacation in Europe's densest wilderness, an area extremely well suited for active nature experiences. Swimming in one of the hundreds of lakes or hiking through untouched forests will be complemented by you meeting the king of the forest, your overnight stay in Sweden's most primitive hostel and your nightly adventure in a bear observation hide. During this trip, you will be staying in a variety of accommodations.
You will do this!
Go hiking in Tiveden national park
Sleep in Sweden's most primitive hostel
Meet the moose, king of the forest
Stay 1 night in a bear observation hide
Learn how to make authentic Swedish cinnamon buns
Spend one night in a unique forest hut
Explore Europe's densest wilderness on foot, by bike or from the water
Build your own timber raft and float it down the river
Roam along the magnificent Bohuslän archipelago
Route adventurous 15-day family tour Central Sweden
Day 1 until 2: Malmö
Day 2 until 4: Tived
Day 4 until 6: Skinnskatteberg
Day 6 until 7: Järbo
Day 7 until 11: Furudal
Day 11 until 13: Stöllet
Day 13 to 15: Hunnebostrand
TRAVEL ITINERARY
Day 1
Your first accommodation during this trip is a nice hotel located in the center of Malmö.
With its perfect location right in the city center, where you can enjoy culture, shops, parks and entertainment to your heart's content, this hotel is the perfect start to your family holiday through Central Sweden. In this hotel you will have 2 double rooms with a connecting door at your disposal. There is a parking garage under the hotel.
From the hotel you have a fantastic view over Ribersborg beach and both the castle and the Turning Torso building are within walking distance of the hotel.
Day 2 until 3 inclusive
After a delicious breakfast, you will check out of the hotel in Malmö no later than 12 pm and travel from Malmö to Tived. A northerly drive of approximately 5 hours (425 km) awaits you.
In Tived you will spend 2 nights at a beautiful campsite.
Your 27 m² cottage is equipped with a kitchen consisting of a stove, refrigerator and microwave, as well as a coffee maker and the necessary kitchen utensils. The bathroom consists of a wash basin, shower and toilet. There is also a porch with garden furniture.
The bedroom is equipped with a double bunk bed. In the living room, the sofa can be converted into a double sofa bed.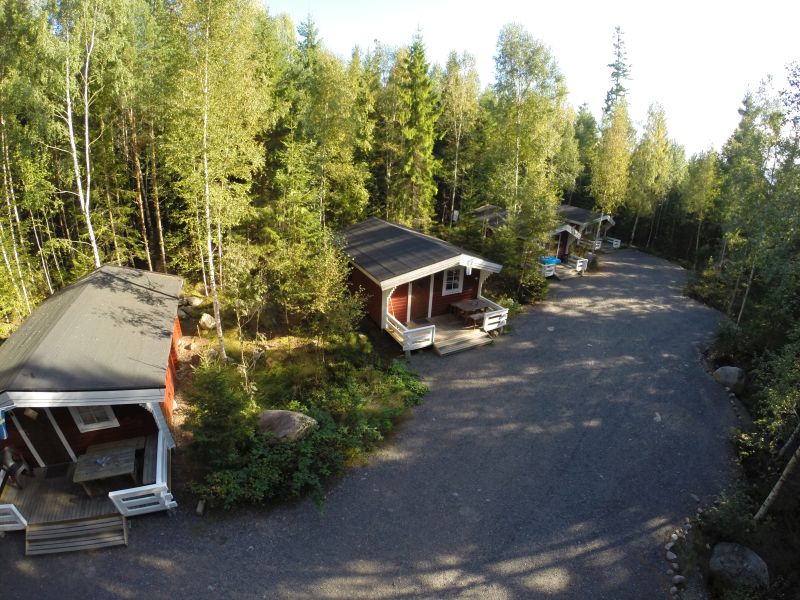 Various hiking and cycling tracks have been mapped out with starting and ending points at the campsite. You can get more information about this at the reception.
Enjoy a refreshing dip in Lake Unden, one of Sweden's clearest lakes, after which you can grill a sausage in the evening on one of the communal grill areas or in the grill hut while enjoying a breathtaking sunset. You can also fish here or rent a canoe, kayak or SUP.
In Tiveden, numerous hikes have been mapped out. While distances in kilometres might seem rather low, it is very hilly terrain full of rocks which makes the walks take much longer. This magnificent primaeval mountain range, formed during the Ice Age, is surrounded by deep crystal-clear lakes and forests. A unique area, where the kilometres-thick layers of ice have carried huge boulders, and glaciers have given the curves to these mountains over thousands of years. There are a dozen challenging trails to hike and scramble among these exciting rock formations, canyons and caves.
Description of the hiking trails in Tiveden national park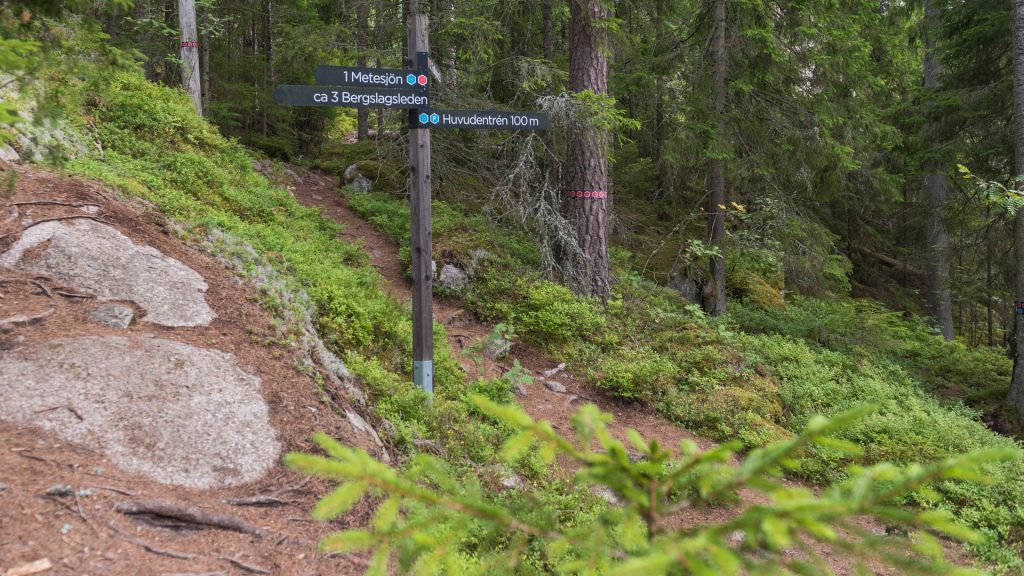 Small villages and towns, such as Askersund on the northern side of Lake Vättern, the Karlsborg fortress, the Gota Canal and the lock at Forsvik, offer a number of museums and sights.
It is even possible to go horseback riding or rail biking in the national park.
Day 4 until 5 inclusive
After breakfast and no later than 11 am you will travel on to your next accommodation.
From Tived it is just over 2 hours drive (175 km) in a north-easterly direction to Skinnskatteberg where you are expected to arrive at 2 pm at a unique location in the woods.
On the way to Skinnskatteberg you can visit the city of Örebro where you can stroll in the cozy city center and also visit the beautiful castle.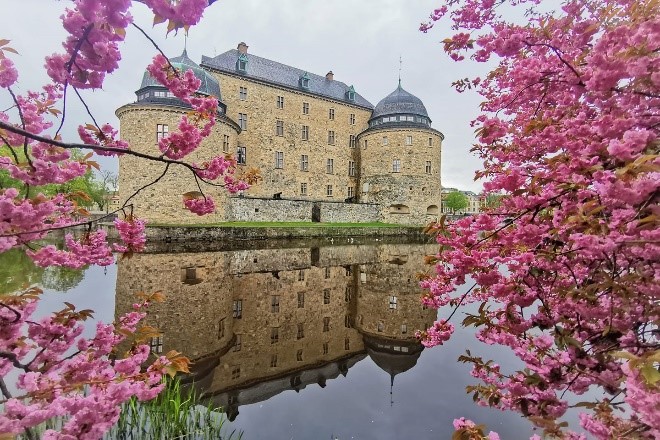 Tonight and tomorrow night you will spend the night in Sweden's most primitive hostel. An unforgettable adventure in the woods awaits you.
You will stay in a charming cabin. Don't expect more than that, there is no electricity nor running water. Imagine falling asleep next to the crackling fireplace and waking up to beautiful birdsong. Silence and wilderness surround you and offer you the chance to chop your own wood or feast on blueberries you pick yourself in the area.
Here you can connect with silence and nature instead of a Wi-Fi network. Consider a visit to the floating sauna (included), rent a rowboat or canoe or relax in the wood-heated bath tub with impressive views (at extra cost).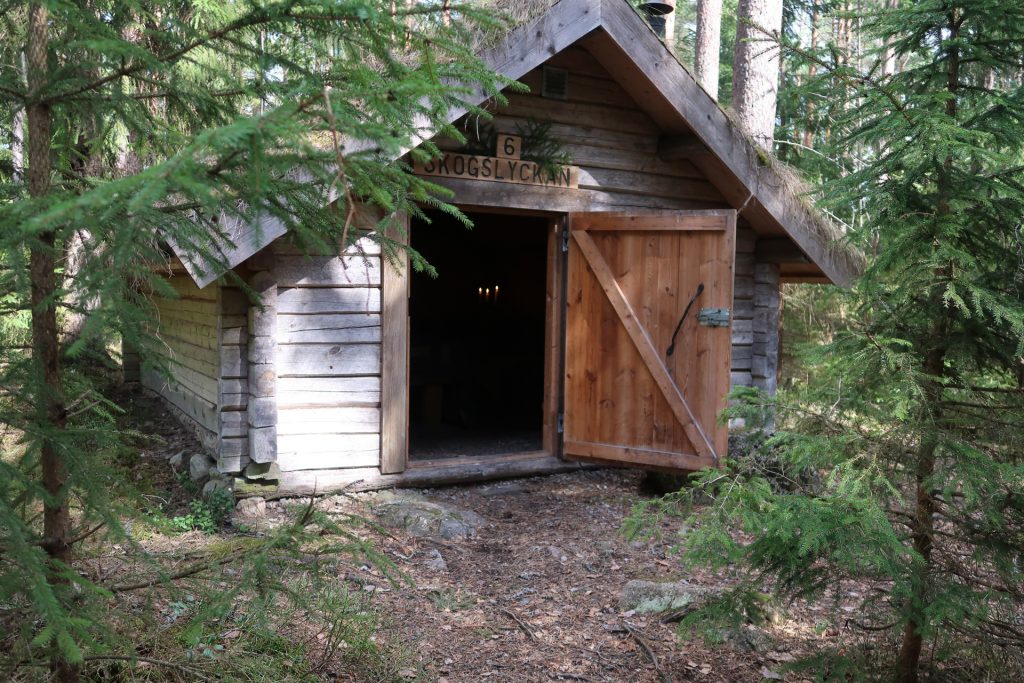 Here you will be staying on a bed and breakfast basis. For breakfast you can use basic ingredients from the kitchen, but you must prepare your own meals over an open fire.
During your stay here, I advise you to hike the Ormdalsstigen. This is a 5.8 km long, beautiful and very varied hike in the municipality of Skinnskatteberg. Because of the terrain you have to count on a 2 to 3 hour hike.
On one of the evenings an exciting activity is planned in the ecopark Malingsbo-Kloten. At that time you will go in search of the king of the forest, the moose.
First you take a walk through a piece of ancient forest, while the guide tells you all about these impressive animals and their habitat. After the walk, you will enjoy an outdoor meal by the campfire and later in the evening you will join the guide in a search of these impressive animals from a minibus.
This excursion takes 5 hours, and the return is late in the evening.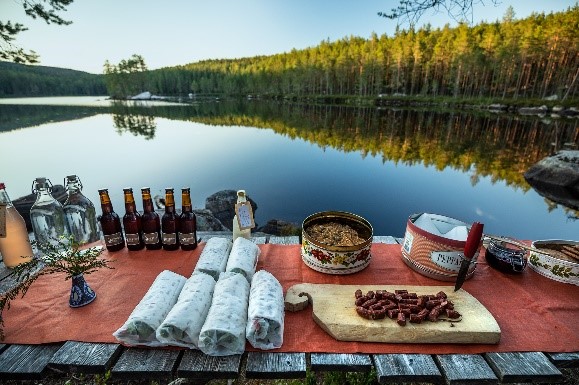 Day 6
You will leave the beautiful surroundings of Skinnskatteberg at 10.30 am at the latest and start the 2 hour 10 minute (148 km) northwards drive to Järbo where you are expected to arrive at 3 pm at the latest.
Upon arrival at Järbo you will get all explanations about bears and your stay in the hide.
An open sandwich and coffee/tea will be offered to you and around 4.30 pm you will be taken to the observation hide where you will also spend the night. You will spend an exciting night in this hide, you will mainly get to see birds and squirrels. If you are quiet enough you might, with a bit of luck, also get to see wild brown bears.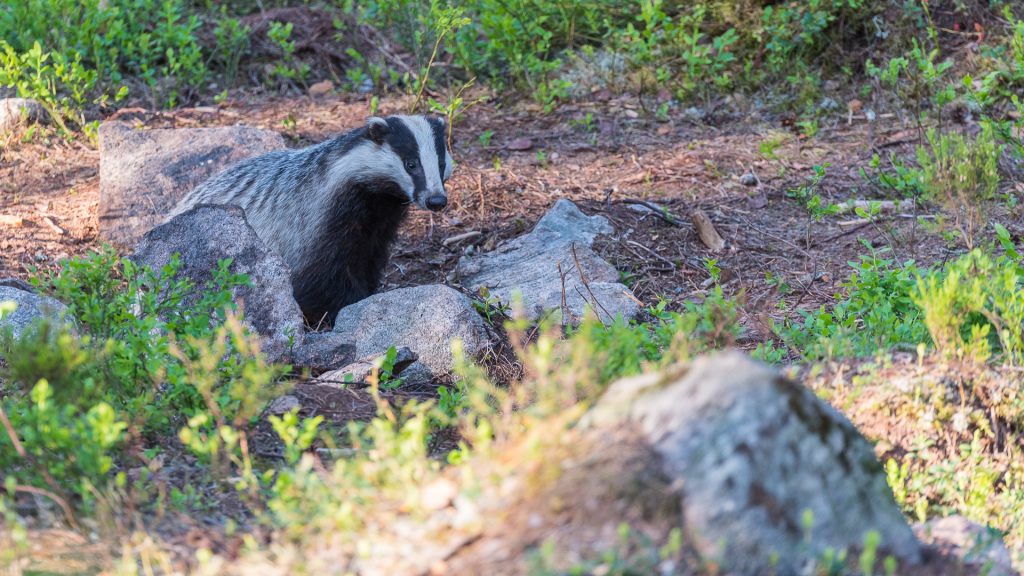 Remember to bring enough food and beverages for the duration of your stay in the hide (5 pm to 8 am the following morning), preferably odourless food and silent packaging. You are NOT allowed to leave the hide.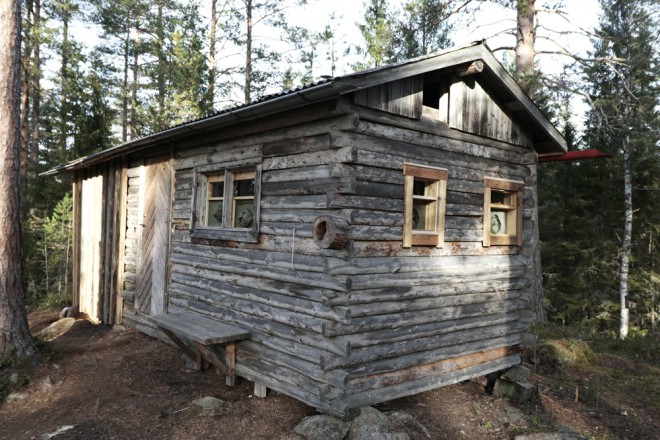 Day 7 until 10 inclusive
The next morning you will be picked up by the guide at the hide at 8 am.
Upon arrival at the visitor centre you will be offered a full breakfast. Hopefully you will have a lot to tell about your experiences from the previous night.
Staying in the bear observation hide is exhausting because you have to alternate sleeping so that someone always stays awake to spot bears. So on a successful night, you barely get to sleep.
After breakfast, you can rest further at the visitor centre in one of the guest rooms or use the bathroom to freshen up if you wish.
After this you travel on to Furudal, located 2 hours (125 km) drive northwest of Järbo.
From 4 pm you can check in at the magical forest hut, located in the Swedish countryside, on the edge of the wilderness.
Bed linen is included, you stay 1 night in the forest hut based on room and breakfast.
This beautiful forest hut is based on the principles of a design of modern space travel. It stands partly on a hill surrounded by tall pine trees overlooking the farm's former field where game is regularly spotted.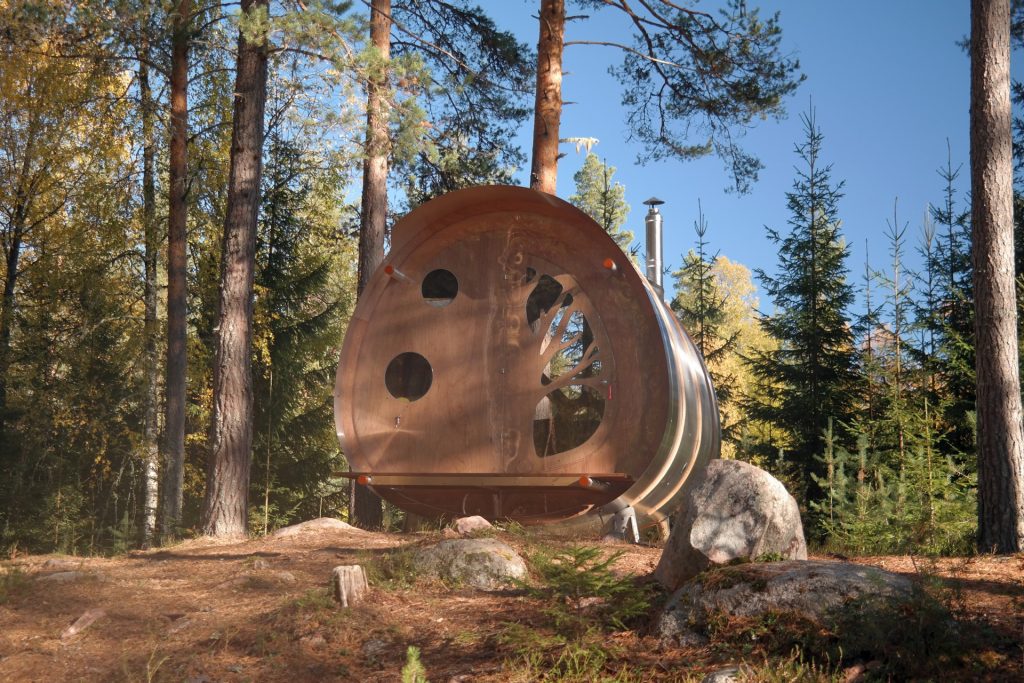 Breakfast is served in the shared outdoor kitchen equipped with barbecues, a fridge, a coffee machine, a kettle and a simple 2-burner gas cooker. Cutlery, crockery and a set of pans are also provided.
You can wash in the sanitary container with a private bathroom consisting of a shower, wash basin and toilet.
After this, you will stay 3 nights in a cozy holiday apartment, located on the same domain.
This apartment suitable for 6 people has 3 bedrooms: 1 bedroom with a double bed of 160×200 cm and 2 bedrooms with 1 bunk bed each. A fully equipped kitchen is at your disposal, as well as a bathroom consisting of toilet, wash basin and shower.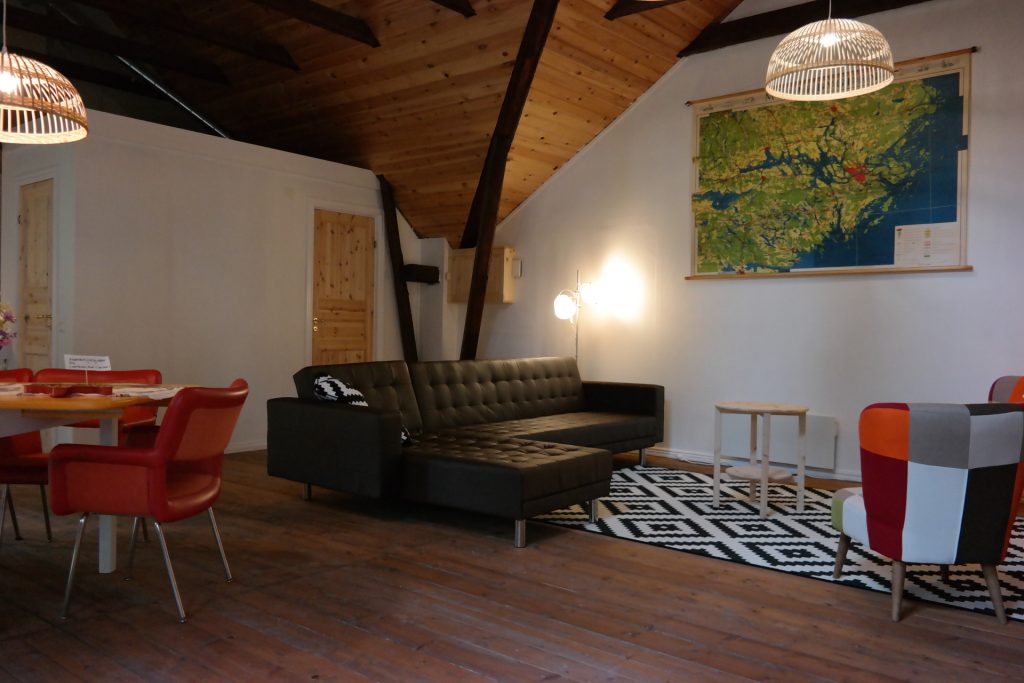 There is a lot to do around Furudal. Your hosts will give you numerous tips on what to experience where. You will receive a hiking booklet with all kinds of tips for nice walks. You can also rent mountain bikes on site. There is also a small swimming pool on the property.
During your stay at Furudal, you will learn to make cinnamon buns, there is nothing more Swedish than this. Everyone loves "kanelbullar" in Sweden, there is even a special day dedicated to it, the 4th of October. Even though young and old love this pastry, it is not so easy to bake tasty and good-looking cinnamon buns. During this workshop, you will learn all about it.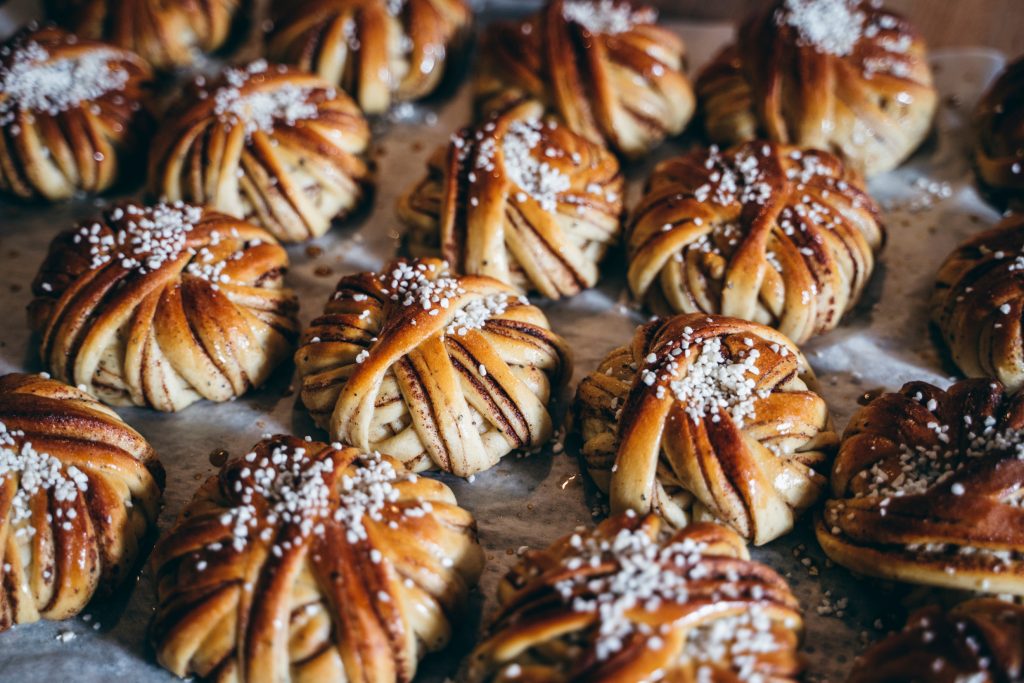 In Rättvik there are a number of quality restaurants; this town is 40 km away from your flat. You can also book an evening meal on the farm.
In Furudal, the Snitths bakery is definitely worth a visit. Baking is still done here in the traditional way. It is the best place to enjoy a real Swedish fika (coffee break with coffee/tea and delicious pastries).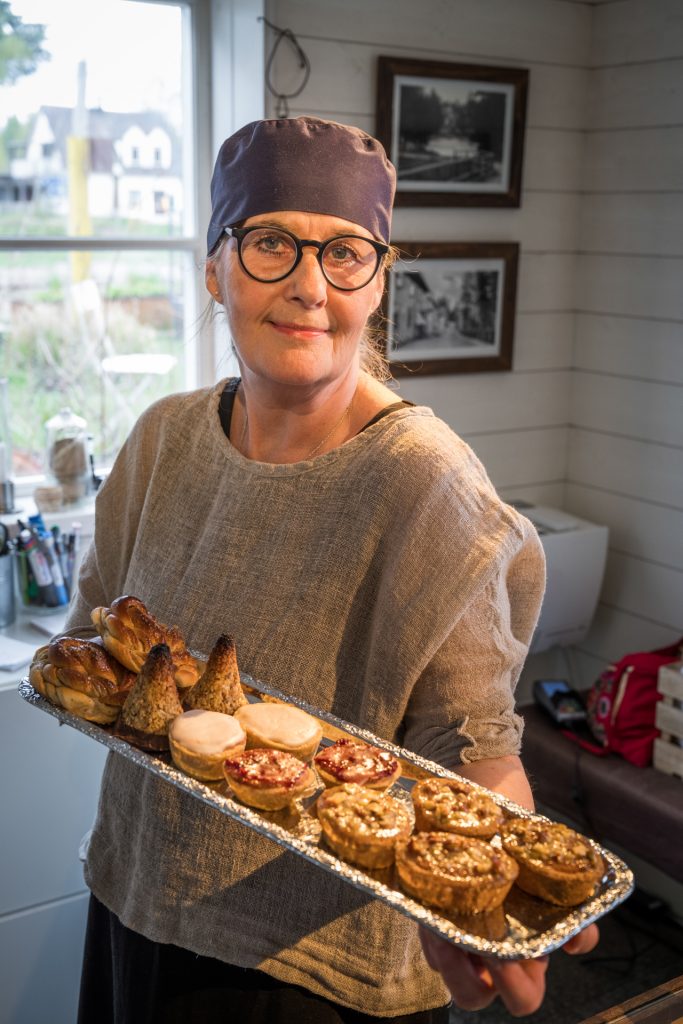 During your stay in Furudal, be sure to visit the Ärteråsen mountain pasture and summer farm with its observation tower.
Another fun outing is the factory in Nusnäs where Dalarna (Dala) horses are made. These horses are extremely famous not only in Sweden but all over the world. In the factory, you can follow the whole process of making these handmade figurines. There is also a nice shop.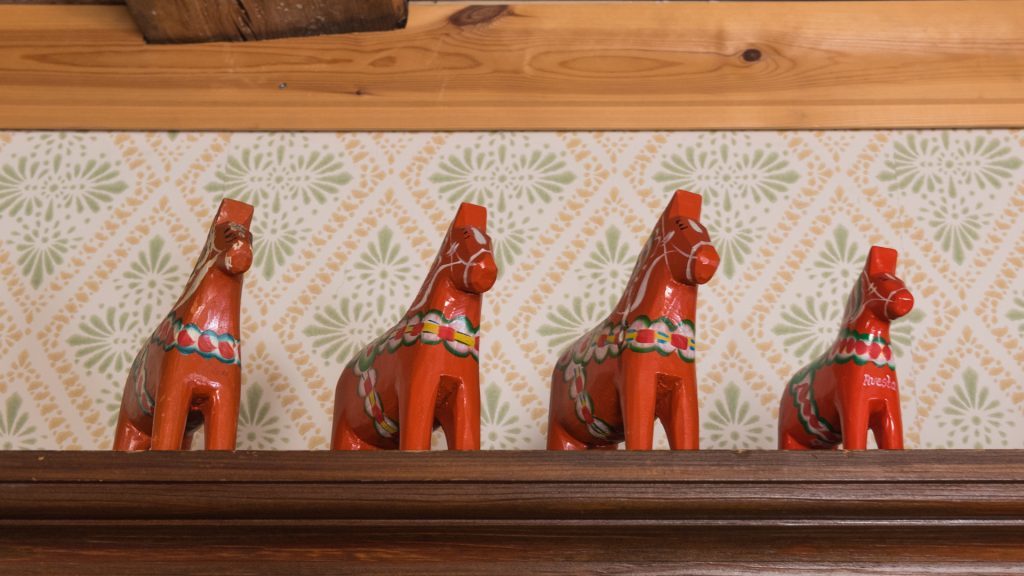 There is a lot to experience around Lake Siljan, the largest lake in Dalarna.
A 35-minute drive south of Furudal is Sweden's best obstacle park, there are obstacles for everyone. During 3 hours you can go wild on the 7 courses, ziplines and no less than 65 obstacles.
Day 11 until 12 inclusive
Today you must leave the holiday apartment before 11 am. Then you start the 2 hour 15 minute (167 km) drive to Stöllet which is located southwest of Furudal.
You are expected to check in at 2.30 pm on a camping site situated along the Klarälven river.
Your accommodation is a well equipped cabin of 16 square meters with running water, private toilet and shower, and 2 bedrooms.
This camping is perfect for travelers who are looking for unforgettable nature experiences.
You can swim and fish in the river. There is a volleyball court, a trampoline and a playground on site.
At 3 pm at the latest, you start an exciting activity, a 2-day timber raft adventure. Do not be late !
After an introduction, you will start building a timber raft consisting of logs and ropes. The English-speaking guide will tell you how to build a sturdy raft. After the hard work, you will have built a 3×3-metre raft that weighs no less than a thousand kilos. It's a good thing there are 4 of you because building and steering the raft requires a lot of physical effort.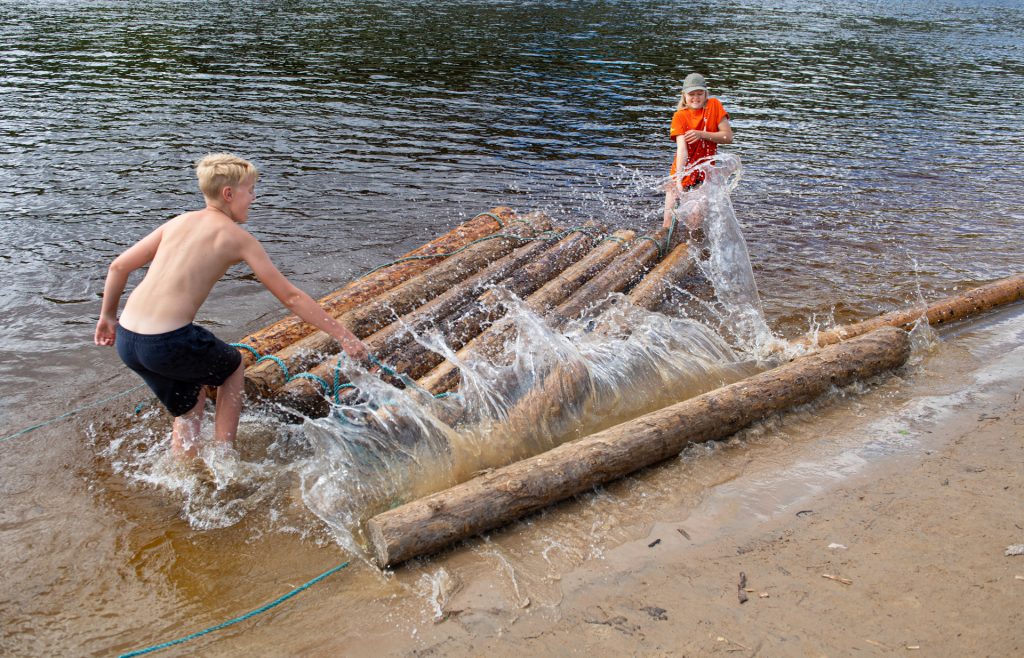 When the raft is ready, it should be docked. On the next day, you will make use of the raft until a certain end point situated by the river. From here, you will have to drive back to the campsite. To make sure your car is available at the end of the rafting tour, you will drive there today and leave your car on site. Someone from the campsite will go there as well to pick you up at the end point and drive you back to the campsite.
The next day, you decide when you want to start the trip on the Klarälven river. Ensure you take enough food and drinks for the trip and, above all, clothing suitable for changing weather conditions. Sailing on a log raft is an experience between extremes: peace, quiet and suddenly plenty of activity when, for example, a tree lies across the river.
At the end of the trip, you must dismantle the raft and deposit everything in the boxes provided. This will be an unforgettable adventure and is the perfect activity for travelers who love being in nature, find new experiences exciting and are not afraid to roll up their sleeves.
After this, you will spend another night at the campsite. You can spend your free time renting canoes, admiring the waterfalls Brattfallet (a 25-minute drive from the campsite) and Fämtfallet (a 15-minute drive from the campsite). There are picnic benches at both waterfalls, so these are ideal places to have lunch.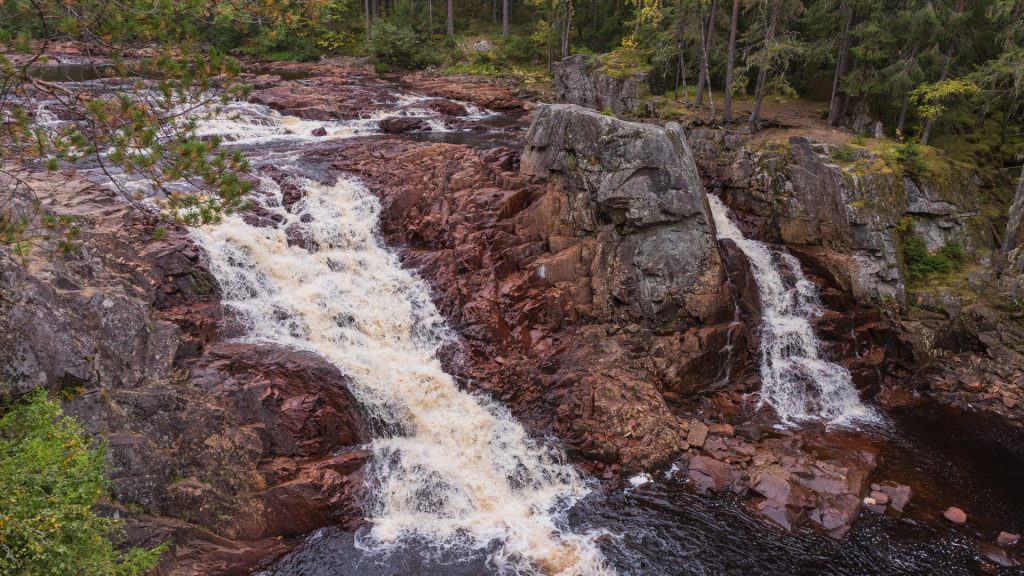 Day 13 to 15
You will leave Stöllet at 11 am at the latest and travel to your last residence of this trip, located on the beautiful archipelago in western Sweden, called Bohuslän. From Stöllet a south-westerly drive of 4 hours and 30 minutes (330 km) awaits you.
On the way to Ramsvik you should definitely visit the most touristic attraction of Dalsland province. In Haverud, there is a spectacular aqueduct and associated locks designed in 1860. Here, the rail, road and canal come together. You should definitely book a boat trip here, fun is guaranteed!
The Bohuslän archipelago covers an area of more than 4,400 km² and stretches from Gothenburg to the Norwegian border. The jagged coastline with its many inlets, thousands of islands and quaint, picturesque fishing villages is breathtakingly beautiful. You will stay here at one of the ten most beautiful places in Sweden.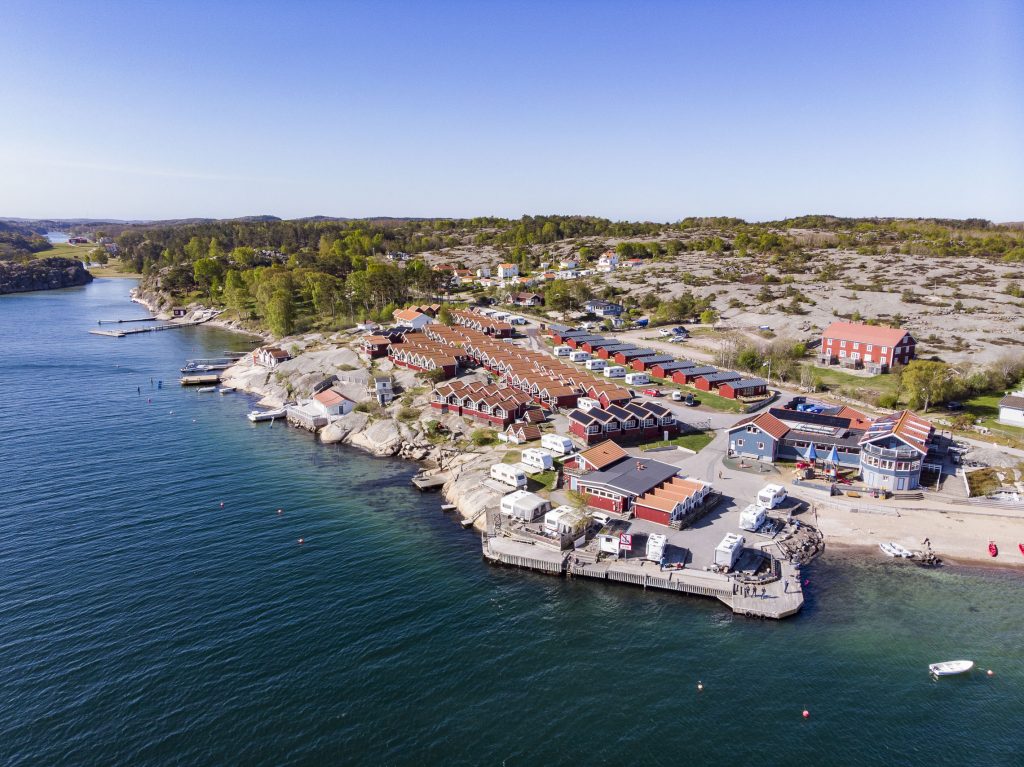 In Ramsvik, you will spend 2 nights at a fantastic campsite. The cottages are very close together, but it is the best family campsite in central Sweden! The domain, located by the water, has a restaurant where delicious meals are served. There is also a small shop. You mainly stay here for the location and the sights in the vicinity.
The cottage in which you will stay is 38 m² in size (a ground floor of 19 m² and a sleeping loft of 19 m²). It consists of a fully equipped kitchen, a living room with sofa and a bathroom with shower and toilet. You can enjoy a furnished terrace and it is a max. 100 meter walk to the water, which is mainly equipped with children's toys in summertime.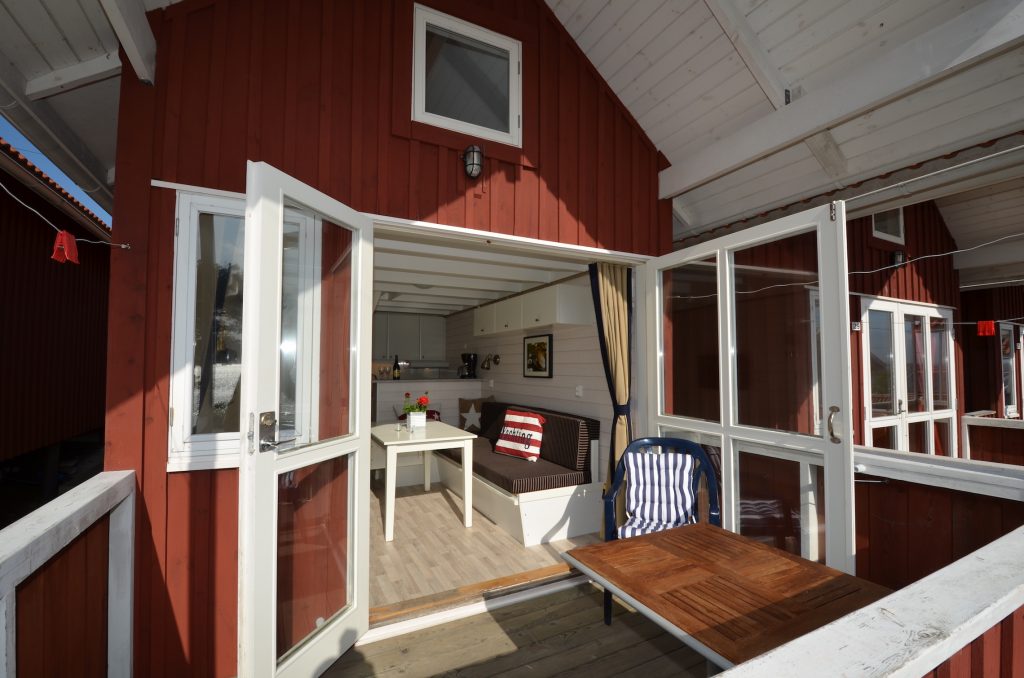 The campsite is located in the nature reserve Ramsvikslandet, an immensely large and varied nature reserve where numerous walking routes have been mapped out.
Bohuslän has so much to offer, but the fishing village of Smögen stands head and shoulders above the rest and can therefore be very busy during the summer months.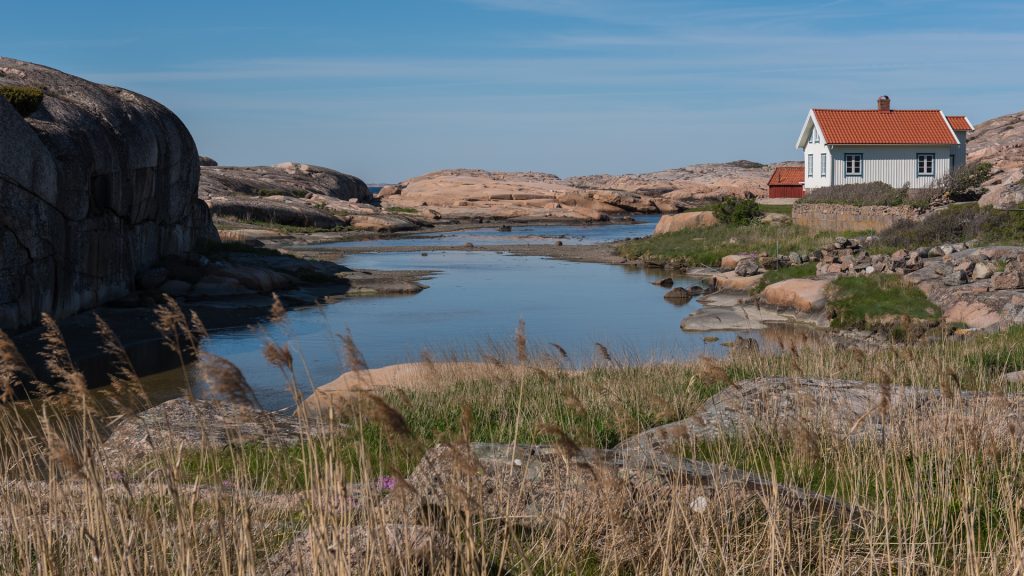 North of the campsite, a 45-minute drive away, is the Vitlycke museum. This is a science and experience center recognized by Unesco as World Heritage. Here, you can admire numerous petroglyphs from the Bronze Age. You can walk alone between the engravings and reconstructed buildings, but a guided tour always offers added value.
If you like animals, the Nordens Ark wildlife park is highly recommended (only 17 kilometers from the campsite).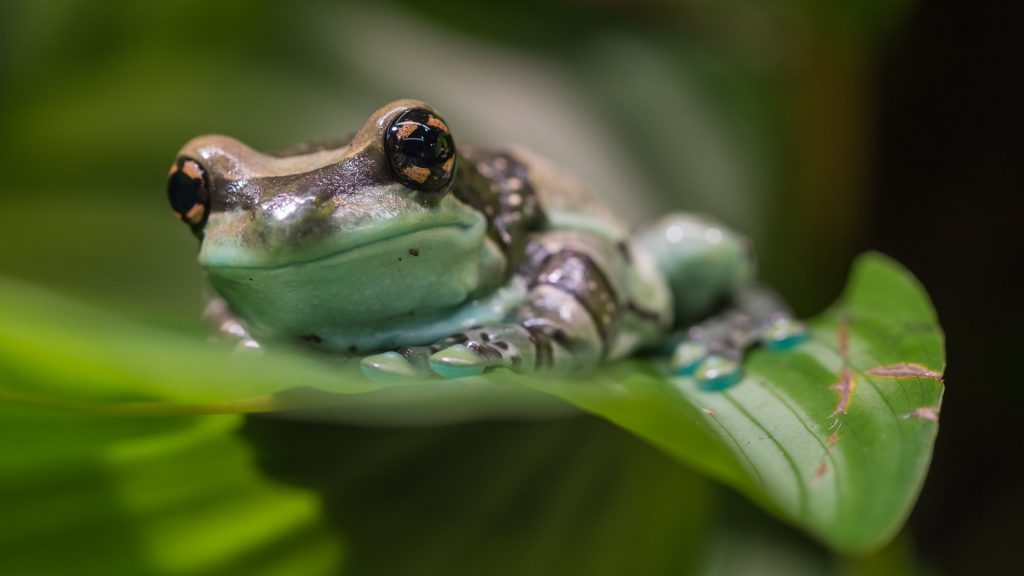 On the 15th day your holiday has come to an end. We hope you enjoyed it and look forward to seeing you again.
Price details adventurous 15-day family tour Central Sweden
Travel period: Between June and September
Travel duration: 15 days / 14 nights
Travel costs: from 65.836 SEK based on 2 adults and 2 children between 7 and 15 years old.
Accommodation: Overnight stays including bed linen, towels and final cleaning
1 night at a hotel in Malmö
2 nights at a holiday cabin in Tived
2 nights at an eco-lodge in Skinnskatteberg
1 night at a bear hide
1 night at a forest hut and 3 nights at a holiday apartment in Furudal
2 nights at a holiday cabin in Stöllet
2 nights at a holiday cabin in Hunnebostrand
Included: Overnight stays on self-catering in Tived, Furudal, Stöllet and Ramsvik, overnight stays on bed and breakfast in Malmö and Skinnskatteberg, 5-hour moose safari including outdoor meal in Skinnskatteberg, use of a shared floating sauna in Skinnskatteberg, bear hide and workshop cinnamon buns in Furudal.
Excluded: Transport to and from Sweden, transport within Sweden, insurances (travel, hospitalization and cancellation insurance), non-included meals, all drinks, optional excursions and personal expenses.
Summary included activities and meals
DATE
ACTIVITIES
MEALS
Day 1 until 2
Breakfast on day 2
Day 2 until 4
Day 4 until 6
5-hour moose safari including outdoor meal,
use of the shared floating sauna
Breakfast on day 5 and 6
Day 6 until 7
Bear hide
Breakfast on day 7
Day 7 until 11
Workshop cinnamon buns
Breakfast on day 8
Day 11 until 13
2-day timber raft adventure
Day 13 to 15
Booking: Contact me via e-mail sylvia@amazingscandinavia.com or by phone +46 (0)70 230 68 70