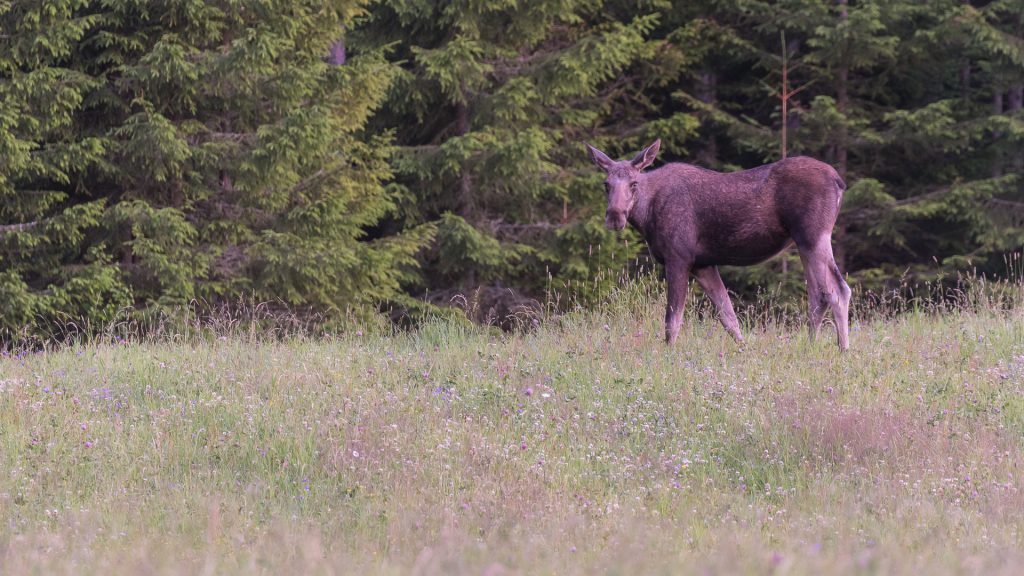 Moose are wild animals and belong in the forest; not in a zoo or on a farm. This moose safari will show you the moose's natural habitat. Your guide will tell you all about these impressive animals and their environment.
You will do this!
Learn to track moose
Hike

through a forest covered in moss and blueberry bushes

Enjoy an outdoor meal overlooking a secluded lake

Chance to see moose, roe deer, fox, cranes, owls and for the lucky few even wolf or lynx
After meeting your guide you will travel by minivan to one of the best moose spotting areas in Sweden. At the campfire you will get better acquainted with the rest of the small group. Your view is that of a stunning lake where herons and golden eagles are often seen.
You are now deep in the taiga, where countless wild animals live such as moose, roe deer, wild boars, hares, foxes, badgers, wolves and even lynxes.
Before dinner you will be exploring the area on foot. You will hike through ancient woodlands with its forest floors completely covered in mosses of various shades of green, and where many types of berry bushes grow. During the walk your guide will make several stops and explain more about moose, such as why these amazing animals are so significant to the taiga ecosystem.
After the walk you will return to the campfire and enjoy a meal consisting of a vegetarian wrap filled with organically grown vegetables, a locally produced sausage, a healthy berry drink or a bottle of local beer, organic coffee or tea and a delicious chocolate cookie.

Later that evening you will travel through the forest by minivan looking for moose and other wildlife. The van will always remain at a respectable distance so as not to scare the animals. When opportunity knocks you will get off for a closer view and better photo opportunities.
Please be aware that moose are shy animals and afraid of human beings. You will set out to look for them in their natural habitat where they are not receiving any extra food from humans.
You will return to the starting point in the darkness, better understanding and respecting moose and other animals you got to observe.
Practical information
Period: From May to September. The largest number of moose is usually spotted in May, when they come out of the forest to feast on the fields after the long winter. June and July offer the best lighting conditions for photography. In August and September the antlers are fully grown and many moose are seen due to the approaching rutting season. Please be aware that September is usually too dark to take good photographs.
Time: The start and end time of this 5 hour moose safari depends on the season:
From mid-May to mid-July: 19:00 – 24:00
From mid-July to late July: 18:30 – 23:30
From early August to mid-August: 17:30 – 22:30
From mid-August to late August: 17:00 – 22:00
From early to late September: 16:00 – 21:00
Meeting point: Skinnskatteberg (Västmanland); the exact location will be announced when booking.
Accessibility: This safari is accessible to everyone over 8 years old and able to walk through the forest without difficulty. You will be hiking at a gentle pace for about an hour and make several stops. Should the walk prove to be too demanding, you can always wait by the campfire. After the others have returned, you will go on a moose spotting trip by minivan.
Price: 1450 SEK / person: the price includes tour by minivan with English speaking guide and an outdoor evening meal. The price for children up to 16 years of age is only SEK 725 (50% discount) and students up to 26 pay SEK 1250.
To bring along: I recommend suitable clothing (layers, preferably a t-shirt or sweater with long sleeves and long pants as protection against mosquitoes), suitable waterproof shoes, camera or smartphone, rain proof clothing, insect repellent, bottle of water and in case of warm and sunny weather headgear and sunscreen. Don't forget your patience.
Booking: Contact me via e-mail sylvia@amazingscandinavia.com or by phone +46 (0)70 230 68 70
This activity takes place in the wild, meaning that although you will be visiting the location where these animals live, no guarantees can be given as to what you will get to see or photograph.
Photos taken by participants: