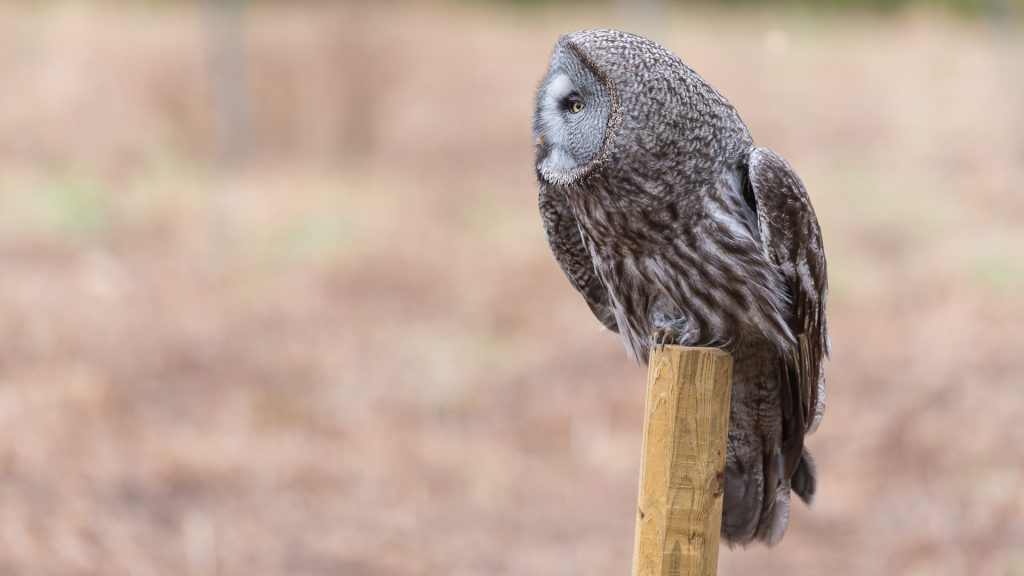 Great grey owls are majestic and extremely beautiful owls. And the biggest advantage: they show themselves during the most beautiful moment of the day! Are you joining me on a great grey owl safari?
You will do this!
Search for three hours for this very photogenic owl species
Usually several birds show up allowing for a lot of variation in photo opportunities
In the early evening we head out into the area where great grey owls breed most years. At that time of day the owls (usually one to three) come out to hunt over the grasslands. We drive over unpaved back roads until an owl is spotted and you can start to focus on getting pictures or simply enjoy this majestic owl species. Because the breeding area covers a large network of meadows, it can take a while to find the right spot. The owls are usually not shy and can most of the time be photographed up close. Based on recent local information, we can also choose to stand and wait for the owl to appear at a certain location. Meanwhile you will be able to enjoy the evening chorus of passerines and the courting flights of the woodcock. With a bit of luck we might also get to see the Ural owl, which also breeds in the area.
The owls start to appear during late afternoon or early evening, but they can also come into sight at the last hour of light. It's good to be prepared for poor light conditions where you have to work with a high ISO value. A good tripod is therefore a must, a bean bag can be borrowed.

Practical information
Period: Every Monday, Wednesday and Friday in April and May. With a successful breeding season, the great grey owls also stay on site in June.
Time: Departure at 5.30 pm, the safari takes approximately 3 hours.
Meeting point: Gnien naturreservat situated in Ramnäs in the province of Västmanland.
Accessibility: This safari is accessible to everyone, only limited walking is necessary. A big tele lens is a must for photographers. This safari is also suitable for non-photographers. In that case, bring binoculars (can also be borrowed).
Price: 1250 SEK / person: the price includes transport from and to the meeting point, hot and cold drinks, snacks and guiding in English. Max 3 participants.
To bring along: I recommend suitable clothing (layers), appropriate shoes, camera gear (a 400-600 mm lens is recommended), tripod, camera instruction manual, raincoat, insect repellent, bottle of water and in case of warm and sunny weather: headgear and sunscreen. Don't forget your patience.
Booking: Contact me via e-mail sylvia@amazingscandinavia.com or by phone +46 (0)70 230 68 70
This activity takes place in the wild, meaning that although you will be visiting the location where these animals live, guided by a local nature photographer, no guarantees can be given as to what you will get to see or photograph.