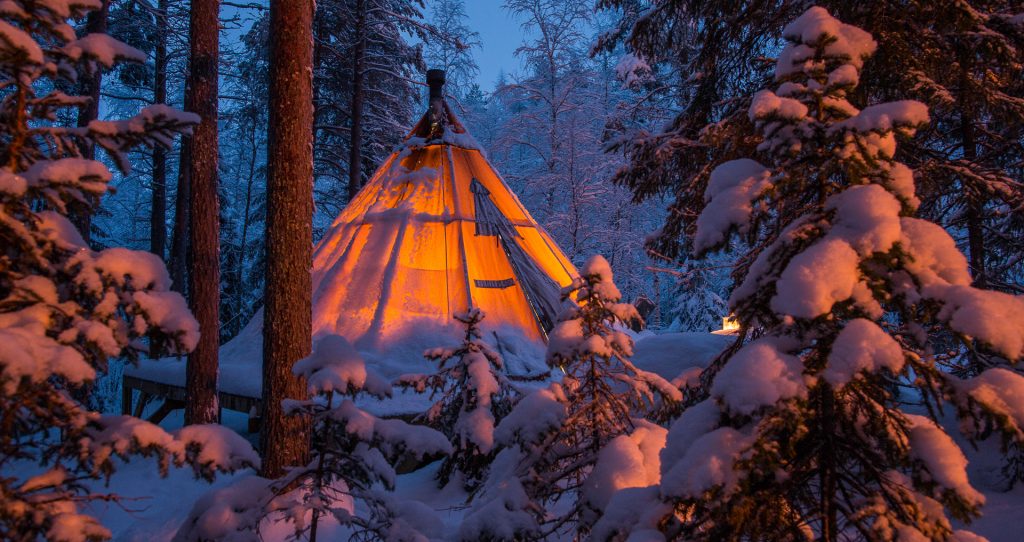 Are you looking for a unique nature experience in Swedish Lapland? Can you cope with freezing temperatures and a lot of snow? Are you looking for the ultimate location in Sweden to see Northern Lights? If you answered these 3 questions with "yes", then you should definitely book this unique 5-day winter holiday in Swedish Lapland.
You will do this!
Stay at the first glamping site in the world created for arctic winter conditions
Spend 2 nights in a Lavvu / Sami tent
Join a dog sledding tour
Drive a snowmobile yourself
Cross the arctic circle together with your guide
Route 5-day winter holiday in Swedish Lapland:
Day 1 to 3: Gunnarsbyn
Day 3 to 5: Mårdsel
Day 1 to 3 – Gunnarsbyn – Safari camp:
On your own you will travel to the airport of Luleå (LLA) or the Central train station of Boden. You can get to Luleå airport by airplane from Stockholm Arlanda. If you prefer traveling by train, there is a night train from Stockholm to Boden Central which takes about 12 hours (airline tickets and train tickets are not included in this program). Optionally I can arrange overnight stays in the cities of Stockholm, Luleå and Boden for you.
From Boden C train station or Luleå airport, a private transfer will be provided for you to the world's first glamping site suitable for arctic winter conditions. This safari camp is located 70 km from Luleå airport, a 1-hour drive through dense forest with good chances of seeing wildlife along the way. The camp can be reached by sitting on a snowmobile sled for the last 10 minutes. In the middle of the wilderness and far away from light pollution, you have the chance to admire the unique Northern Lights from the front row. This is the place to disconnect from everything while still enjoying a certain comfort level.
You will stay in a lavvu tent for 2 nights, located in the heart of Swedish Lapland. The camp is situated next to a large lake called Degerselet and the Råne river. A lavvu tent is a Sami tent that has been adapted and furnished so that you do not lack comfort. With a constantly burning fire, you don't have to be cold here. The bathroom is nearby and you can shower during the private time you get at the sauna on the lake. There is even a small hole in the ice in which you can dip after your visit to the sauna. In favorable conditions the sauna on the lake forms the perfect spot to admire Northern Lights.
During your stay at this safari camp you can drive a snowmobile alternately for 1.5 to 2 hours. From a snowmobile you can admire the forests and the frozen Råne river. This tour starts and ends directly at the camp, hot drinks are included. If you want to, you can put on snowshoes to climb one of the mountains in the area, this for a magnificent view over the surroundings.
During this 5-day stay, all food and non-alcoholic beverages are included: hot breakfast snacks, lunches, min. 3-course dinners, snacks and non-alcoholic beverages.
The use of extra winter clothing is also available for you free of charge (winter suits, winter boots, hats and gloves).
On site you can use (included):
Fatbikes (mountain bikes suited for snow and the tracks designed for this)
Snowshoes (perfect to explore the forest and the nearby islands)
Kicksleds (the excellent means of transport in the North for several centuries)
Ski equipment
Headlamps and torches
Day 3 to 5 – Mårdsel – Lodge:
Today you await a transfer (included) of 35 minutes to the Outpost Lodge. In Mårdsel, a former grocery store has been converted into a comfortable accommodation.
Just below the arctic circle, your accommodation is ideally situated for a dog sledding tour. A dogsled is the ultimate way to travel through forests and over frozen lakes. You can drive the sled yourself or sit on the back together with a guide for 3.5 hours. An outdoor meal is included on this tour.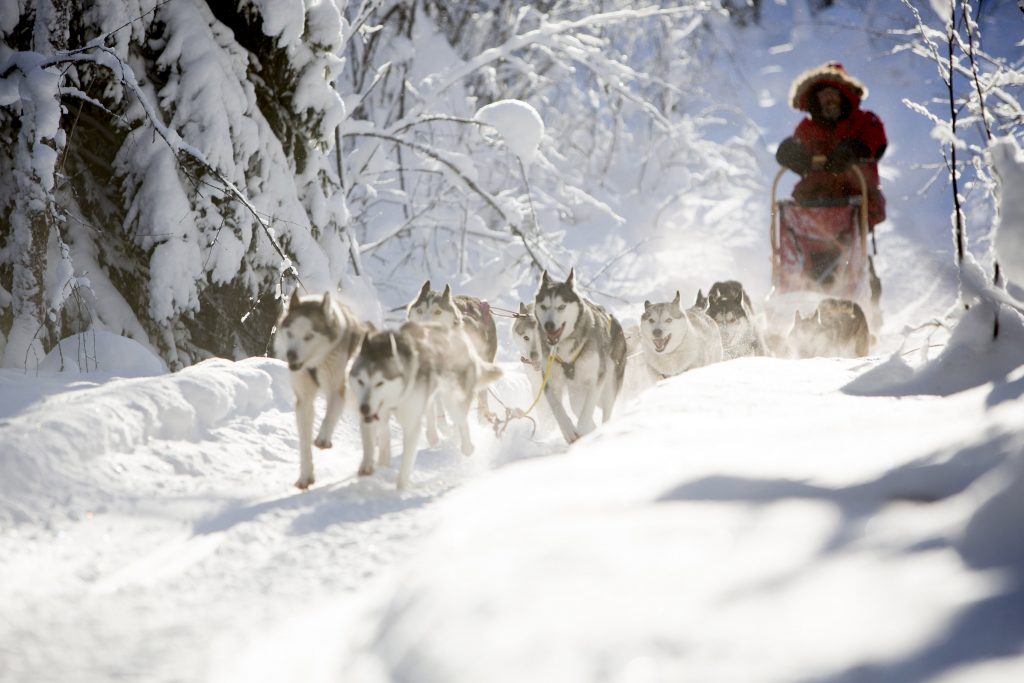 In Mårdsel you will stay 2 nights in a suite of 102 m2, located on the 1st floor, based on full board. The suite has 3 bedrooms, a cozy living room, a private bathroom and kitchen. The living room has a fireplace, a bar, a music system and some musical instruments. A large flat screen TV and board games ensure that you will not get bored indoors. In the basement you can enjoy a beautiful sauna with underfloor heating, the perfect relaxation after an outdoor activity.
The Arctic circle is in close proximity to the lodge. From this line, the sun does not rise on December 21 and does not set on June 21. This snowmobile ride takes place on minor roads and you have the chance to see moose, reindeer, fox, hares and arctic bird species. On snowshoes you will discover the ancient forest around the arctic circle and enjoy lunch in a forest hut. This tour on day 4 takes approximately 4 to 5 hours.
Breakfast, lunch, dinner, snacks and all non-alcoholic beverages are included during your stay.
On site you can use (included):
Snowshoes
Kicksleds
Ski equipment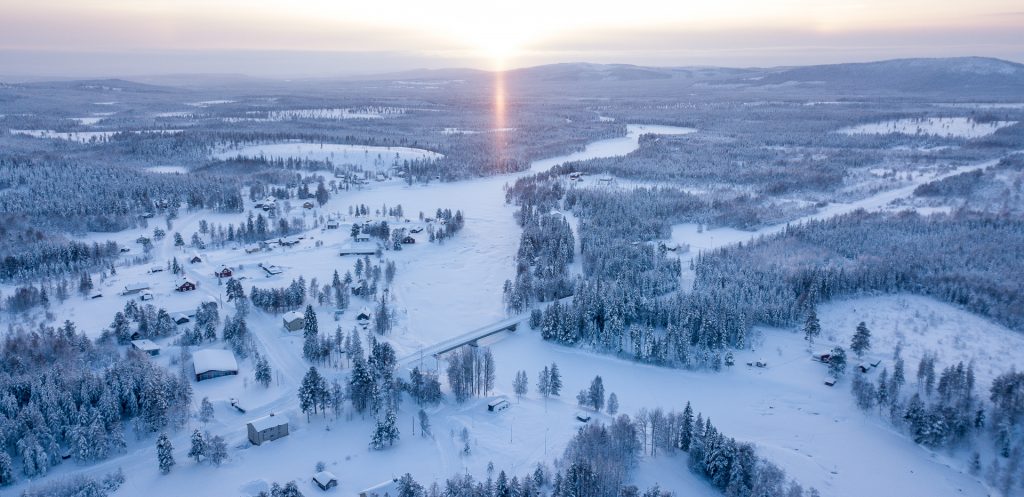 Optional (bookable) activities at both accommodations are:
Hot air balloon ride
Ice sculpturing workshop
Sami experience, meet reindeer and their herding family
Storforsen waterfall excursion
On day 5, after breakfast, a 1.5-hour transfer awaits you to Luleå Airport or Boden train station. You will certainly return home with fantastic and unforgettable memories.
Price details 5-day winter holiday in Swedish Lapland:
Travel duration: 5 days / 4 nights
Travel costs: from 35.184 SEK per person on booking in double occupancy
Included: overnight stays on all-in basis, mentioned excursions, mentioned transfers and guidance throughout your stay.
The price does not include:
Transport to and from Boden C or Luleå
Travel and cancellation insurance
Alcoholic beverages
Optional activities
Personal expenses
BE AWARE:
Due to limited electricity facilities at both locations, you must bring your own power bank to charge your telephone or other electronic equipment.
The best period for your stay in Swedish Lapland is from mid-January to mid-April.
Bring suitable winter clothing and winter boots! In Swedish Lapland, temperatures range from 0 to -40 degrees Celsius. When it comes to clothing, it is important to work in layers which you should be able to put on and take off easily. So you have to bring your own thermal underwear, warm socks, hat and gloves. At both accommodations you can freely use extra winter suits, stockings, gloves and a hat as overlay over your own clothing.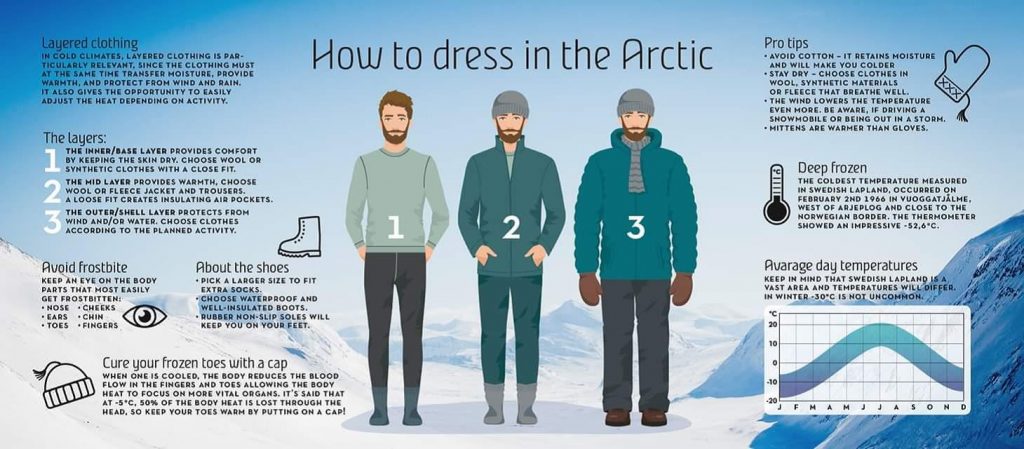 Booking: Contact me via e-mail sylvia@amazingscandinavia.com or by phone +46 (0)70 230 68 70