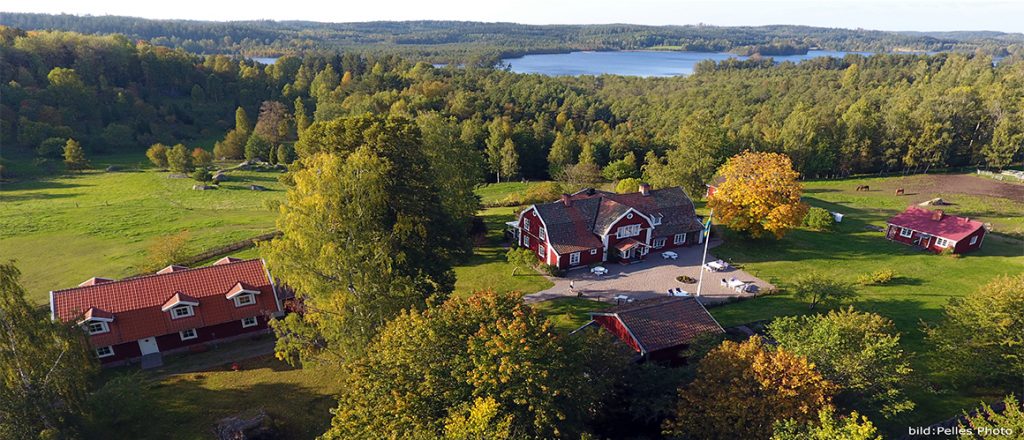 In the wilderness of the province of Östergötland resides a fantastic hotel named Sommarhagen. Amongst lakes, meadows and forest and only a 3 hour drive from Stockholm, an old vicarage has been lovingly restored. Being away from stress and responsibilities of everyday life, you will be able to relax and enjoy nature and great food on a full board basis. You will spend one night at the hotel and the second night in a glass house with the stars shining above you.
You will capture the beauty of this unique region through your camera lens. There are some triggers that will attract us to certain things when shooting in nature such as the quality of light, colors, forms, different angles/perspectives & compositions. Whether you are a beginner wanting to learn more about basic camera settings, or an advanced photographer seeking new challenges, Sylvia Adams, a nature and travel photographer, will give you the encouragement and tuition you need, to get the best out of your camera capturing the beauty of these untouched forests and numerous lakes.
Holiday highlights!
Discover the untouched forests and numerous lakes surrounding the hotel
Spend 1 night in a unique glass house by a lake in the wilderness
Enjoy tasty & locally produced food
Find out how to get the best results from your own camera
A professional nature photographer will guide and encourage you in small groups
Image review sessions offer constructive feedback throughout this tour
Practical information
Dates:
Friday 21 to Sunday 23 May 2021
OR
Friday 24 to Sunday 26 September 2021
Latest booking date (4 weeks prior): 23 April / 27 August
Free cancellation up until 4 weeks before starting date
Meeting point: Hotel Sommarhagen; situated in Malexander, Boxholm in Southern Östergötland.
Lodging: During the 1st night you will be able to relax in one of the sixteen hotel rooms. With only the sound of silence you will wake up after a good night's sleep and be able to look out over the forest and lake. Why not wander around the large garden surrounding the hotel before enjoying breakfast.
The 2nd night you will stay in a unique glass house by a lake in the forest. Who is not dreaming of sleeping in the wilderness under a sky filled with stars? This is an experience beyond the ordinary.
Food & drinks: Most of the food served at Sommarhagen is locally produced. The nature surrounding the hotel offers us magnificent game such as roe deer, moose and goose but also fish from the nearby lakes is on the menu. Depending on the season you will also be able to taste berries or mushrooms from the enchanting forests. Enjoy your meal in the homely decorated dining room with an open fireplace, on the summer porch or by the lake. The coffee and tea served is fair trade and organic, the coffee is even a 100% climate compensated! There is a wide selection of wines and other alcoholic beverages to be served with your meal or whilst relaxing in the lounge.
Accessibility: This tour is only accessible for people with a normal condition not afraid of getting their clothes dirty. For accessibility and assistance information, please contact me.
Price: The price is 5.825 SEK per person, surcharge single room in the hotel is 350 SEK per person. You can also book an extra night at the hotel at a surcharge.
What's included?
• High-quality accommodation and excellent food on a full board basis (drinks are not included) from Friday evening to Sunday afternoon
• Personal guidance and tuition from a knowledgeable nature photography guide throughout the whole tour
• All activities as mentioned in the program below
Group size: Due to the unique experience, the group size is limited to 7 participants, the tour takes place with a minimum of 4 guests. You can join this tour at a surcharge when the minimum number of participants has not been reached.
ITINERARY:
DAY 1 – Friday, May 21 or September 24, 2021:
Arrival and check-in at the hotel during late afternoon. In the evening we will have a 2-course dinner together, while we get to know each other a little bit. We will also talk about our experience in nature photography and which goals we want to achieve during this nature photography weekend. After dinner there will be a tutorial covering the different categories in nature photography together with an inspirational session.
DAY 2 – Saturday, May 22 or September 25, 2021:
After breakfast we will start the 6 km walk to the glass house in which we will spend the night. This photo walk is a great way to get out and get clicking, either by yourself or with a group of people. The idea behind a photo walk is to make you more aware and mindful of the surroundings. Try to limit yourself to one lens, feeling light and comfortable keeps your creative juices flowing. We will eat our packed lunch on the way to the glass houses.
Once we've arrived at the glass houses we will have a fika (Swedish coffee break). After we've settled in at the glass houses you will have time to relax or go canoeing. In the evening we will do some landscape photography. All the ingredients for a barbecue dinner will be provided for us but we will have to prepare dinner ourselves. After dinner and with a clear sky you will learn how to photograph star trails. Sylvia will also tell you more about other forms of night photography.
DAY 3 – Sunday, May 23 or September 26, 2021:
In the middle of the forest we will have great light for a macro photography workshop in the early morning. You'll discover the fascinating world of the objects that grow beneath our feet. You will learn to picture magnificent little things through your camera by using another perspective than you would normally use. After the workshop we will enjoy a late breakfast. Once we've had breakfast, it will be time to pack our belongings and walk another 6 km back to the hotel. Once we've arrived at the hotel you can take a shower before checking out at 12h at the latest. After lunch we will have a short feedback & image review session before we say goodbye to each other.
Depending on the weather conditions certain activities in the above program may be scheduled at a different time.
Booking or additional questions: Please contact me via e-mail: sylvia@amazingscandinavia.com or by phone +46 (0)70 230 68 70.