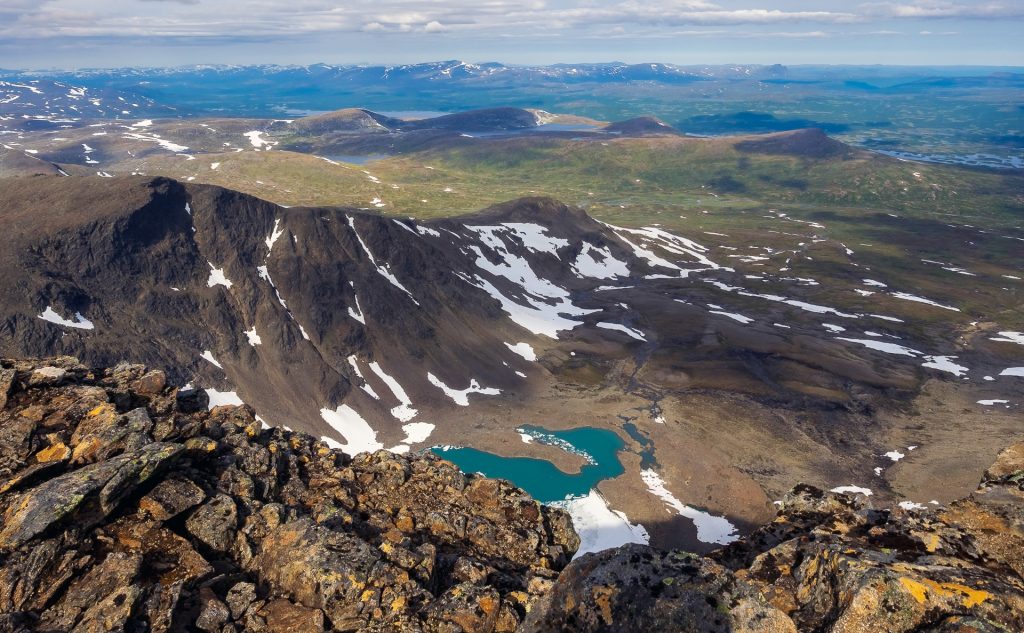 During this 8-day tour of which 6 hiking days, you will get to know the true essence of hiking in the mountains of Swedish Lapland. Together with your guide you will walk through deep valleys, over awe-inspiring plateaus, past steep waterfalls and through lush Scandinavian forest. You will hike from mountain hut to mountain hut and enjoy the fact that you don't have to carry a tent or a sleeping bag. After a long day of hiking you can relax in the wood-fired sauna and/or cool off in one of the numerous fresh lakes or mountain rivers. Together with your experienced guide and in a small group of maximum 8 participants, you will prepare delicious meals on the gas stoves that the mountain huts are equipped with. This is the perfect hiking tour if you want to get to know the essence of the Swedish mountains in all comfort.
The King's trail or Kungsleden is one of Sweden's most popular hiking trails and has been visited by travelers from all over the world since the beginning of the 20th century. On this tour you will hike the southernmost part of the trail, from the small mountain town of Ammarnäs to the village of Hemavan. This part of the trail is a hidden gem that encapsulates the entire Scandinavian mountain range. Impressive views of steep U-shaped valleys, soaring snow-capped peaks, fresh mountain streams, endless moorland plateaus and lush Scandinavian forests await you on this adventure. Because this landscape is so wild and varied, it also forms the habitat of several wild animal species.
Your highly professional English/Swedish speaking guide will share with you his or her knowledge about the Scandinavian mountain range. This guide will not only keep you safe in rough weather but will also teach you everything there is to know about the unique nature and history of this area as well as the wildlife that resides here.
Smaller groups contribute to a sense of community. This adventure takes place with a minimum of 4 and a maximum of 8 participants. You all have a common goal and that is why you are all expected to do your part in the daily tasks that have to be carried out when staying at the remote mountain huts. A highlight of this journey is the laughter, satisfaction and friendship you will all share.
During this multi-day hike you will stay in traditional remote mountain huts. Operated by the Swedish Tourism Association, these huts are primitive yet cozy. What tasks have to be fulfilled when you arrive at these mountain huts? Fetching water from the nearby mountain stream, chopping firewood and cooking delicious meals. After a long day you get to sleep in a comfortable large bunk bed. Some of the mountain huts are equipped with a wood-fired sauna. For many participants, staying in these remote mountain huts is a highlight in itself.
Before starting and after ending this 6-day hiking tour, you can enjoy an overnight stay at comfortable hotels after a 3-course dinner has been served. Because spending several nights in mountain huts can be quite intensive, you will be spoiled with some comfort at the beginning and end of this tour, included in the price.
This hiking tour is suitable for experienced hikers and is led by a trained and certified Swedish mountain guide. You need a good condition and a good pair of hiking shoes for this tour. The daily walking distance is between 8 and 19 kilometers in hilly terrain. Depending on your personal equipment, you will have to carry a backpack with a content weighing between 7 and 12 kg at the start of this tour. Because you are accompanied by a professional mountain guide on this tour, you do not need much prior knowledge about hiking through the Swedish mountain range.
You will do this!
Discover the highlights of the King's trail or Kungsleden on foot
Go on a hiking adventure with a small group of 4 to 8 participants
Spend the first and last day of this multi-day tour in a cozy hotel on a half board basis
Immerse yourself in fresh mountain rivers and relax in wood-fired saunas
Enjoy breathtaking views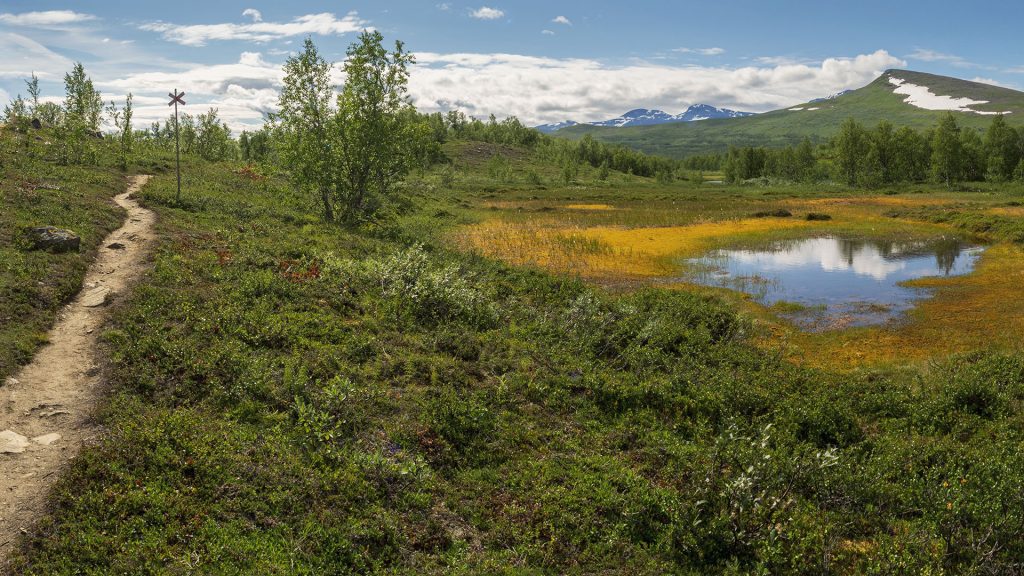 TRAVEL ITINERARY:
DAY 1 – ARRIVAL AT HEMAVAN:
On your own you travel to a small village in Swedish Lapland called Hemavan. Upon arrival at the locally owned hotel Trolltunet, you will meet the guide and the other participants of this hiking adventure.
In the afternoon you will start to plan and prepare the 6-day hike.
In the evening you celebrate the adventure while a 3-course dinner, prepared with local ingredients, will be served.
DAY 2 – HIKE TO AIGERT:
After a hearty breakfast at the hotel, it's time to pack up and start the 6-day long hike. A private bus will take you to the starting point in the cozy little village of Ammarnäs. The transfer takes about 3 hours. Once you have arrived you will prepare the last things before leaving on your hiking tour along the King´s Trail.
Today's hike is not that long but the terrain is quite steep. After you ascend above the tree line you can enjoy a very spectacular view of the Ammarnäs Delta. Today's final destination, the remote mountain refuge of Aigert, is located in a spectacular setting.
Before preparing your dinner, you can go for a swim in the small mountain lake and / or relax in the wood-fired sauna.
Hiking distance: 8 km / Duration: 3 to 4 hours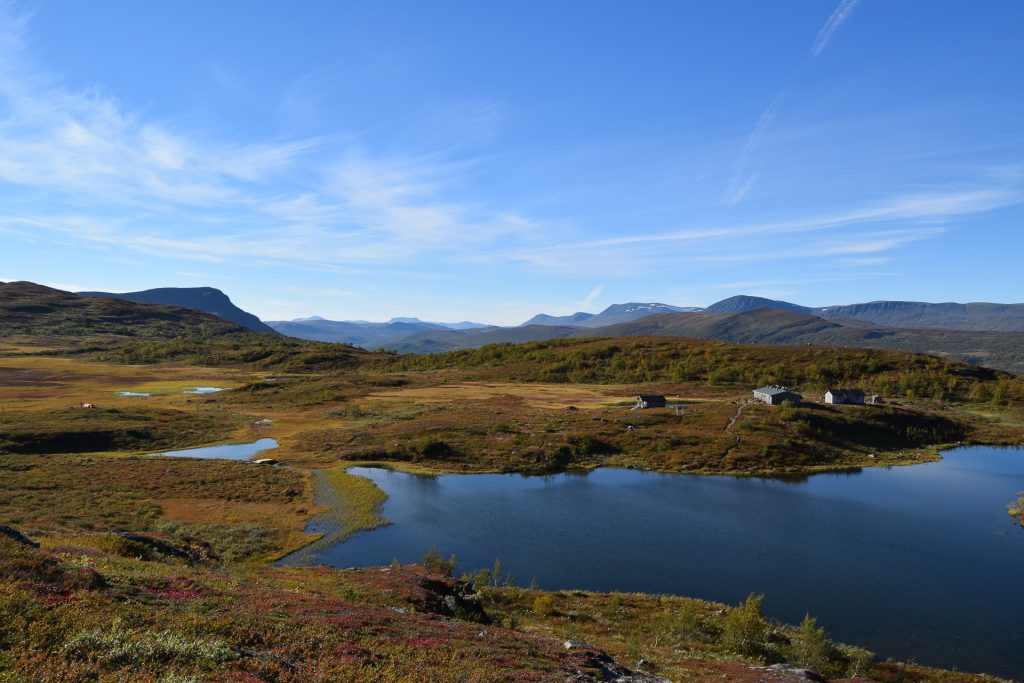 DAY 3 – STAGE SERVE:
Today, the longest stage of this 6-day hiking tour is scheduled. You start the hike by climbing to a beautiful plateau high above the tree line. Here vegetation is scarce and sometimes you can see traces of last winter. At the highest point of this stage, you will take a break at the small refuge of Juovvatjåkka from where you can enjoy a breathtaking view.
Shortly after the break at Jouvvatjåkka you will follow the downward path before entering a lush Scandinavian mountain forest. Hidden in the woods next to a fresh mountain stream is today's final destination, Serve's secluded mountain cabin.
Hiking distance: 19 km / Duration: 7 to 8 hours
DAY 4 – TÄRNSJÖN:
On day 4 you mainly walk through the forest. The Scandinavian mountain forests are really special with their small crooked birch trees and great variety of bushes and marshlands. The area is home to over 120 bird species, several species of small rodents, massive moose and of course the Sami reindeer. With a lot of luck you might spot some rare predators like the arctic fox, lynx, wolverine or brown bear.
You spend the night in the mountain hut located next to the Tärnsjön lake. Here you have another chance at a swim or a moment in the wood-fired sauna.
Hiking distance: 14 km / Duration: 5 to 6 hours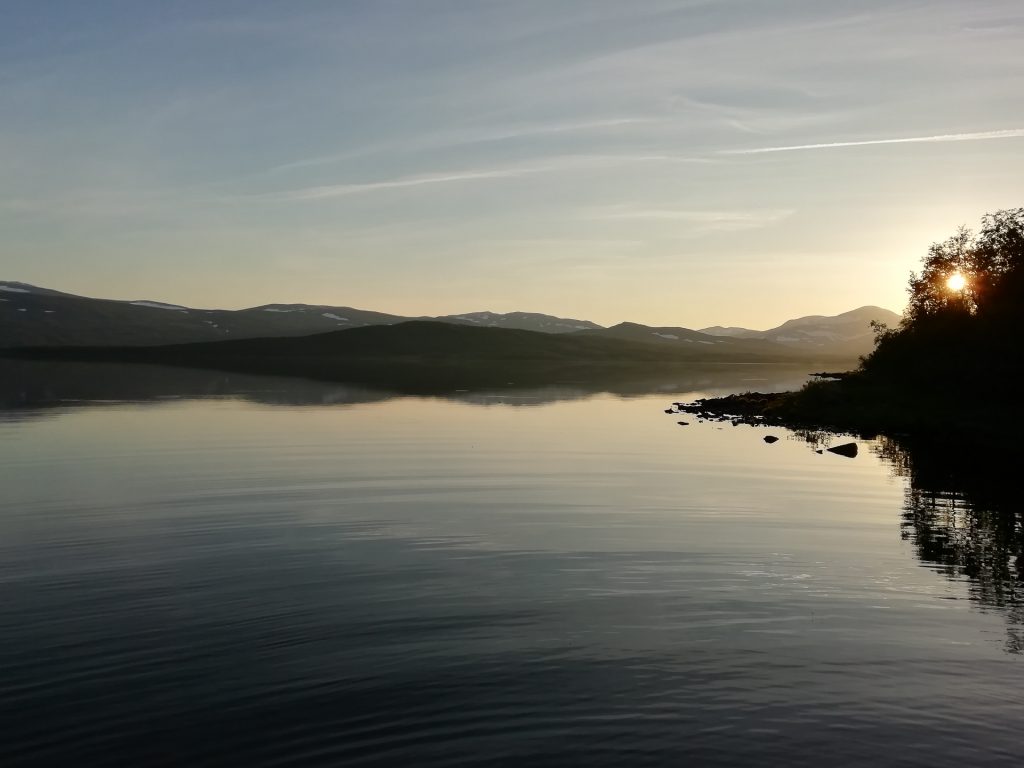 DAY 5 – HIKE TO SYTER:
Today's stage takes you along Lake Tärnsjön. You are surrounded by beautiful mountain scenery and the nearest sign of civilization is a few days march from here. The well-marked hiking trail and footbridges increase your comfort, but here in the wilderness there is no electricity, neither a mobile network or roads. The final destination of this stage is the beautiful mountain hut of Syter which is located just above the tree line and next to a wild river.
Hiking distance: 14 km / Duration: 5 to 6 hours
DAY 6 – TO VITERSKALET:
Today you will continue the ascent after which you will enter the huge U-shaped valley called Viterskalet. During this stage you will walk along green moors and hear the thundering noise of huge waterfalls in the distance. During a coffee break, your guide will explain how this impressive landscape in which you find yourself came to be.
Today's destination is the remote mountain hut of Viterskalet which is situated right in the middle of this great valley.
Hiking distance: 12 km / Duration: 4 to 5 hours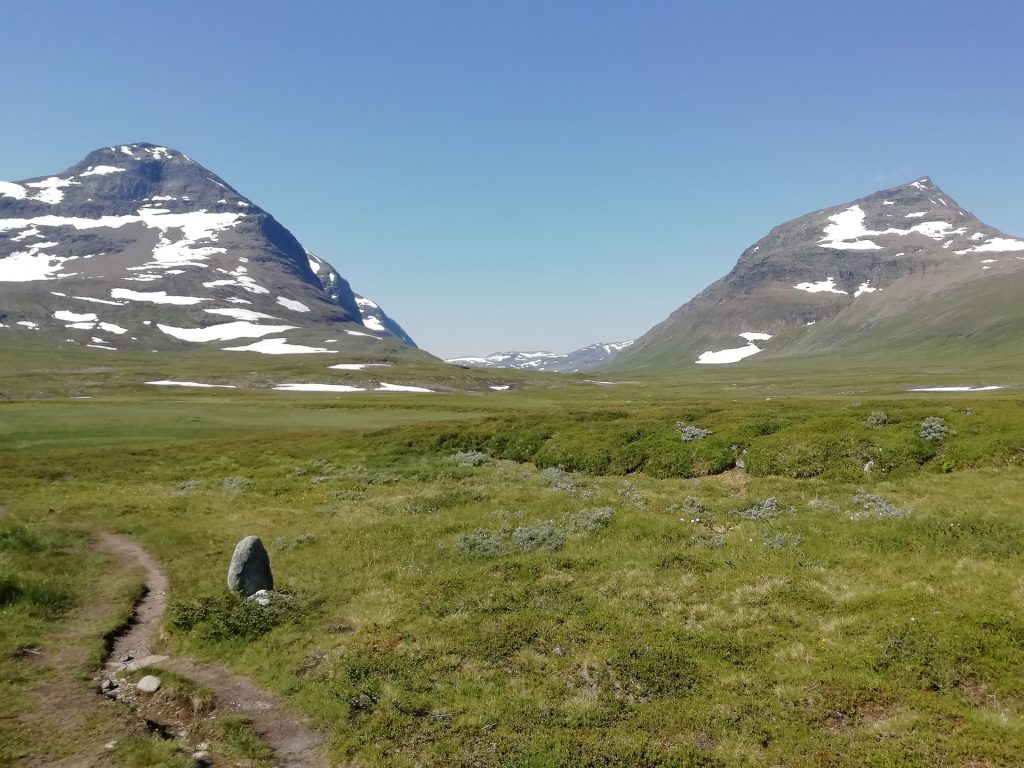 DAY 7 – THE HOME STRETCH TO HEMAVAN:
You start the last leg of this 6-day hiking tour in the morning. You leave the valley of Viterskalet behind and begin the descent to the village of Hemavan. Upon arrival at Hemavan you can enjoy a well-deserved shower and a visit to the sauna. In the evening you celebrate the end of this adventure during a delicious 3-course dinner.
Hiking distance: 11 km / Duration: 4 hours
DAY 8 – DEPARTURE:
After breakfast you say goodbye to your hiking companions before traveling home. It is also possible to continue this adventure on your own or to stay here a few more days before starting your return journey.
Practical information:
Dates:
Sunday 7 to Sunday 14 August 2022
OR
Sunday 4 to Sunday 11 September 2022
Meeting point: This hiking adventure starts from Hemavan, a town located in the west of Swedish Lapland.
You can reach Hemavan by airplane (daily flights) from Stockholm. The Hemavan/Tärnaby airport is situated within walking distance from your hotel Trolltunet.
From Hemavan, the final destination of this hiking tour, you can fly to Stockholm or take a bus to one of the larger train stations in Swedish Lapland to travel onwards from there to Stockholm by train.
Accommodation: You will stay the first and last night in hotel Trolltunet where you will have a comfortable room at your disposal. The meals served here are prepared with local ingredients. The view from the hotel restaurant is breathtaking.
During the hiking tour, you will stay in traditional, remote mountain huts. Staying in these cabins, which are managed by the Swedish Tourism Association, will be one of the highlights of your trip. Here you will learn how to work together for a good experience in the Scandinavian mountains. You share a kitchen with other hikers and various tasks are scheduled every day. The dormitories in the mountain huts are equipped with bunk beds with comfortable mattresses. You must bring your own sleeping bag liner, blankets and pillows are available on site.
Accessibility: This hiking tour is suitable for the experienced hiker. The total hiking distance is 78 km. The daily hiking distance to cover is between 8 and 19 kilometers, for which you will have 4 to 8 hours a day. The minimum age to join this tour is 12 years. The difficulty level of the hike is medium. Keep in mind that the weight of the contents of your backpack will be approximately 7 to 12 kg at the start of the hiking tour.
Price: The price is 22 000 SEK per person.
What's included?
Overnight hotel stays on half board in Hemavan (2)
Overnight stays in remote mountain huts (5)
Personal guidance by a certified mountain guide
All meals from dinner on day 1 up to and including breakfast on day 8
Use of a 54L backpack
Presence of a first aid kid and all essential safety equipment
Video call with the guide before departure
The price excludes:
Travel insurance (including evacuation services) and cancellation insurance
Personal supplies (packing list available upon request)
Extra snacks
Beverages to the meals served at the hotels
Transportation to Hemavan
Personal expenses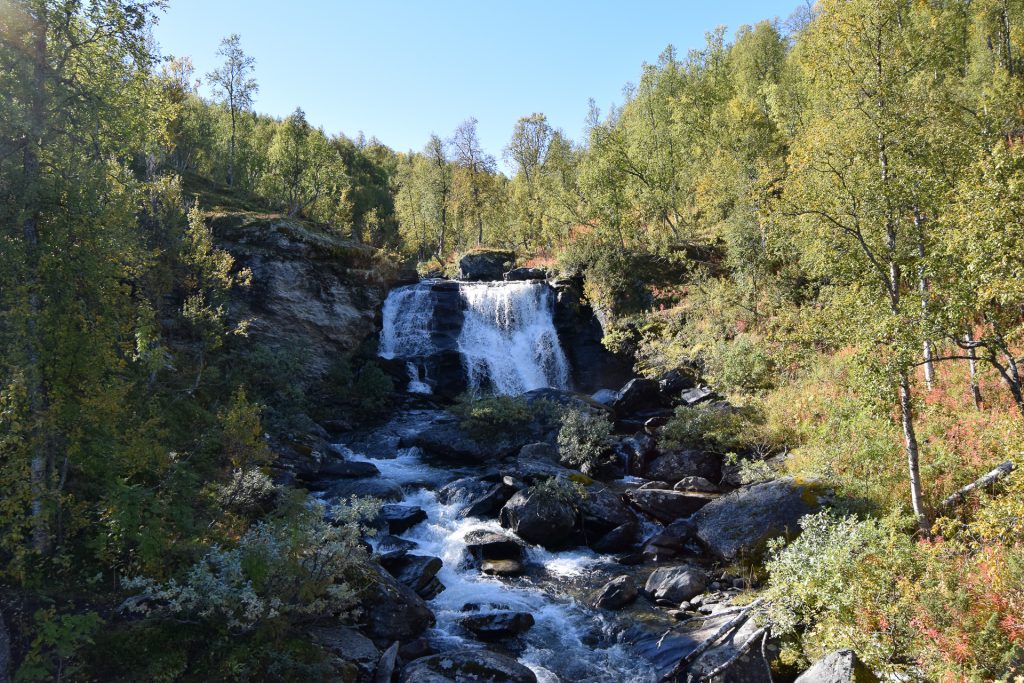 Booking or additional questions: Please contact me via e-mail: sylvia@amazingscandinavia.com or by phone +46 (0)70 230 68 70